Blue Heaven


By Victoria Donohoe FOR THE INQUIRER
Published: April 6, 2012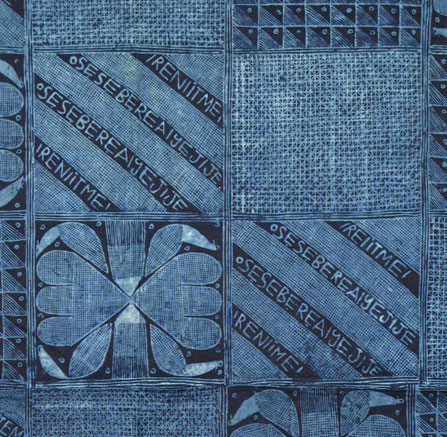 Yoruba Indigo cassava resist-dyed Adire Eleko cloth (detail) – Nigeria.

Gasali Adeyemo, a Nigerian master indigo dyer now settled in New Mexico, who conducts workshops and exhibitions nationwide, arrived at Indigo Arts in the Crane Arts Building in early March with a cassava-starch resist and tie-dyeing demonstration and his current display celebrating the gallery's 25th anniversary.

Betraying an almost sibling intimacy in the similarity of their richly patterned abstract designs, the African textiles on view feature natural indigo dyeing and weaving techniques such as resist-dyed Yoruba adire, Malian Bamana tie-dye, and strip-woven indigo kente cloth from the Ewe of Ghana and Togo.

Adeyemo served as consultant for the informative hour-long video on indigo history being shown. It's all part of the current FiberPhiladelphia event, running through April.

6 April 2012


Indigo Arts Gallery, Crane Arts Building, 1400 N. American St.
To April. 28.
Wed-sat noon-6. Free. 215-765-1041.

This article appeared in print in the Philadelphia Inquirer on April 6, 2012.