W E L C O M E to Indigo Arts.
We hope you enjoy exploring our galleries. Indigo celebrates color, texture, and the boundless creativity of the human spirit, with a collection of art and artifacts from Asia, Africa and the Americas.
Our inventory includes antiques and one-of-a-kind artifacts of traditional cultures as well as the finest examples of contemporary and folk arts. We endeavor to purchase directly from the artists or to buy from cooperatives and arts organizations which return the maximum amount to the artists themselves whenever possible.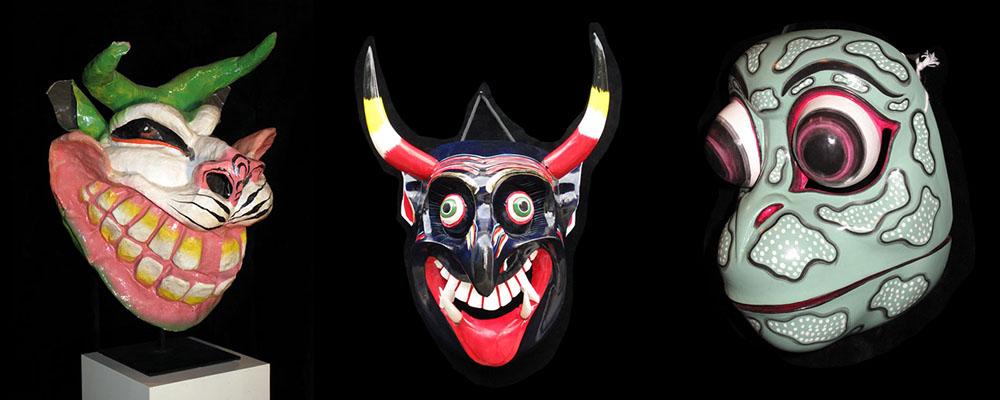 October 8, 2015
to
February 9, 2016
This is the season of transition and transformation.  In the spirit of Halloween and Los Dias de los Muertos, the Days of the Dead, Indigo Arts presents a collection of masks from Africa, Asia, the Americas and the Pacific.  They are masks that conceal, but may also reveal the wearer behind them. Masks are agents of celebration and transcendence, of commemoration and transformation.
The exhibit includes dance, festival and ritual masks, of wood, metal and papier maché from many countries, including Burkina Faso, Cameroon, Congo, Gabon, Guatemala, Haiti, India, Indonesia, Ivory Coast, Mali, Mexico, Nepal, New Guinea, Nigeria and Peru.
"The Mexican, whether young or old, criollo or mestizo, general or laborer or lawyer, seems to me to be a person who shuts himself away to protect himself: his face is a mask and so is his smile. In his harsh solitude, which is both barbed and courteous, everything serves him as a defense: silence and words, politeness and disdain, irony and resignation.... He builds a wall of indifference and remoteness between reality and himself, a wall that is no less impenetrable for being invisible. The Mexican is always remote, from the world and from other people. And also from himslf."
Octavio Paz in The Labyrinth of Solitude, 1961
Read More