I have been really enjoying the fact that the usual 50 or so robo-calls a day have ceased.  But it turns out that we have been without phone service at the gallery for the last week!  Apparently a wet cable many blocks west of us, we are told.  
Thank you Verizon!  
You may reach us by email at indigofamily@indigoarts.com, and may be able to reach Tony at 215-813-7009.
We apologize for the inconvenience.
Living in the village of Bezerros, Pernambuco state, in Northeastern Brazil, Borges is Brazil's best-known folk artist working in the wood-cut medium, and his work has been exhibited all over the world. We offer a selection of Borges' humorous and fanciful wood-cut prints, as well as prints by members of his family and other Brazilian print-makers.
We were fortunate to acquire a significant collection of hand-carved wooden milagre (miracle) ex-votos from the states of Ceará and Pernambuco, in northeastern Brazil. Don't miss this unusual folk art!
Prints and Works on Paper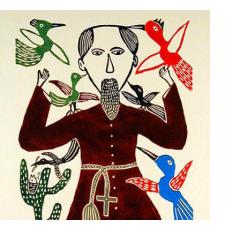 Sculpture
| | |
| --- | --- |
| | |
Baskets and Ceramics