I will be out of town from July 11th to 20th.  The gallery will not be open but the website will be working away as usual.  Orders will be shipped after July 20th.  I will be checking email mesages and should be able to repy  to inquiries.
Indigo Arts has moved upstairs to a space on the fourth floor of the Crane Building.  I am still arranging things up here but I am open on a "by appointment or by chance" basis.  I am usually in the building from Wednesday through Saturday from 12 to 6, but it is definitely best to phone or email first. Meanwhile, the Indigo Arts online gallery is operating as usual.  
Please feel free to contact me with any questions in the mean time.
Tony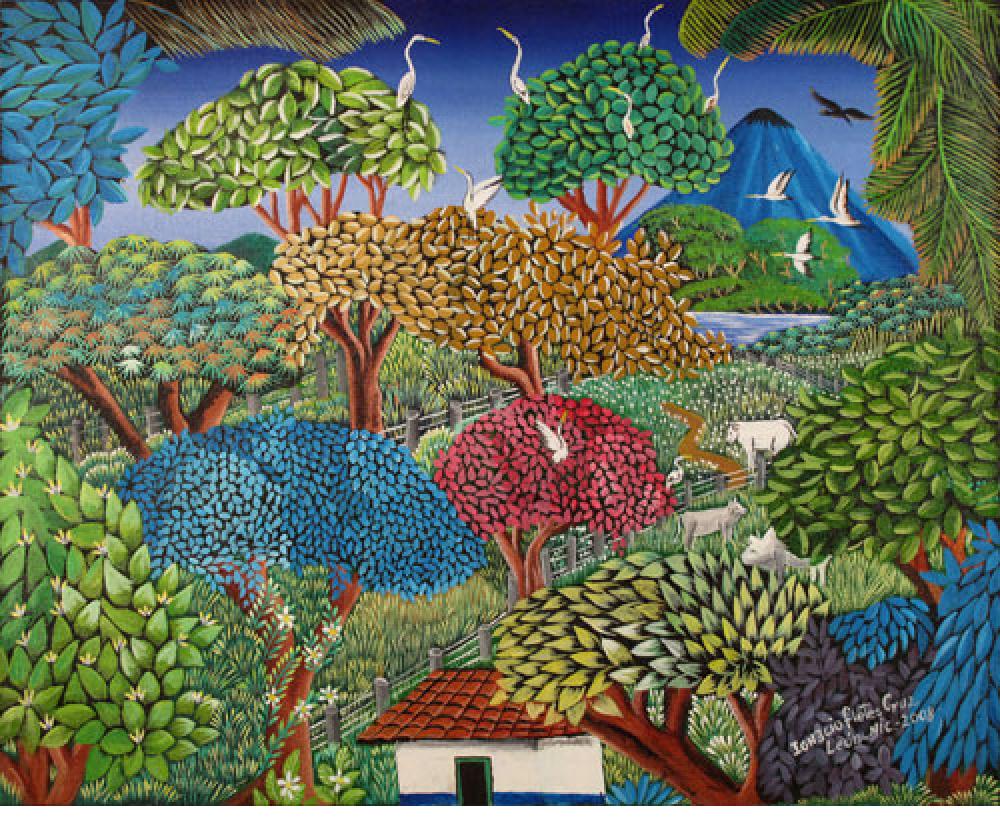 April 9, 2011

to

June 4, 2011
Philadelphia, PA - Noted Nicaraguan Primitivista artist, José Ignacio Fletes Cruz returned to Philadelphia for his third solo show at Indigo Arts Gallery during the months of April and May, 2011. Fletes Cruz was present for the opening reception and workshop at Indigo Arts Gallery on Saturday, April 9th, from 3 to 6pm as well as the Crane Building's Second Thursday reception on Thursday, April 14th (6-9pm). His lush landscapes and scenes of peasant life will be on display through the summer.
While in Philadelphia, Fletes Cruz also painted a mural at El Centro de Estudiantes alternative high school in the Norris Square neighborhood. The mural project was co-sponsored by the Family Arts Academy program of the Pennsylvania Academy of Fine Arts. The murtal, entitled "Amor", was completed in eight days of work and collaboration between Ignacio, art teacher Andrew Christman, Trish Maunder and Beth Prusky of PAFA, and the students at El Centro. The school celebrated the completion of the mural on Thursday, April 14th. A day by day photo album of the mural's progress can be seen on the Indigo Arts Facebook page.
Ignacio Fletes Cruz is a veteran of the 'Primitivista' painting movement which preceded the Sandinista revolution in Nicaragua, and has continued to flourish under both the Sandinista and subsequent governments. These largely self-taught painters work in a naive style typified by scenes of village life, lush flora and fauna, and pastoral utopias, executed in bright colors and intricate detail. The paintings recount the folklore and history of Nicaragua, sometimes presented as Biblical allegory.
The 'Primitivista' movement originated on the islands of Solentiname in Lake Nicaragua, where Father Ernesto Cardenal had formed a small utopian Christian community in 1966. The community attracted worldwide attention as a center of art, poetry and the ideals of liberation theology. But it inevitably became a target of the repressive Somoza regime. In October 1977 the National Guard invaded the island and completely destroyed the community. The survivors went into exile and many joined the Sandinista revolution. They ultimately prevailed with the overthrow of Somoza in 1979. Father Cardenal became the Minister of Culture of Nicaragua, and the surviving peasants returned to rebuild Solentiname.
José Ignacio Fletes Cruz was born on July 31, 1952 in Managua, Nicaragua. He studied for one year at the School of Fine Arts in Leon before joining the original community of primitivistic painters on the islands of Solentiname. His work was included in the landmark book, The Gospel in Art by the Peasants of Solentiname (Orbis Books), as well as the World Encyclopedia of Naive Art by Oto Bihalji-Merin. Between 1978 and 1979, he took refuge in Costa Rica. After the war Fletes Cruz settled in Leon and joined a group of painters in the community of Sutiava. They called themselves El Grupo de Pintores Primitivistas Rodrigo Penalba Martinez, after a famous Nicaraguan painter. The group has been together for well over a decade and is officially recognized by the Nicaraguan Ministry of Culture. Members have won national prizes and exhibited internationally.
Fletes Cruz' work has been exhibited in Nicaragua and in Germany, France, England, Italy, Switzerland, Cuba, Austria, and Costa Rica. Fletes Cruz has been exhibited by Americas' Arts Gallery in Gettysburg, and at Indigo Arts Gallery in Philadelphia, most recently with solo shows in 2004 and 2007. He has painted murals both in Nicaragua and during previous US visits, in Gettysburg, Lancaster and Pittsburgh, PA. In 2007 fifteen of his works were selected for permanent display in the new United States embassy and the offices of the US Agency for International Development in Managua.
Fletes Cruz's visit to the United States was co-sponsored by the Center for Latin American Studies at Vanderbilt University in Nashville, Tennessee. From April 4th to 5th he was a featured participant in a symposium, "Liberation Theology in Latin America: Poverty, Politics and History" marking the 40th anniversary of the movement. His presentation, "Solentiname: Religion. Art, Politics – Reminiscences and Visions" reflects his participation in that pivotal utopian Christian community in the 1970's.