W E L C O M E to Indigo Arts.
We hope you enjoy exploring our galleries. Indigo Arts celebrates color, texture, and the boundless creativity of the human spirit, with a collection of art and artifacts from Africa, Asia and the Americas.
Our inventory includes antiques and one-of-a-kind artifacts of traditional cultures as well as the finest examples of contemporary and folk arts. We endeavor to purchase directly from the artists whenever possible and to buy from cooperatives and arts organizations which return the maximum amount to the artists themselves.
November 18, 2021

to

February 26, 2022
Gabriel Bien-Aimé was born in 1951 in the village of Croix des Bouquets, now known as the "cradle of 20th century Haitian metal sculpture".  Croix des Bouquets nurtured such great Haitian sculptors as the late Georges Liautaud and Murat Brierre, the brothers Louisjuste, and Serge Jolimeau.  Bien-Aimé worked as an auto mechanic for several years before apprenticing to sculptor Janvier Louis-Juste in 1971.  Working on his own, he has become one of Haiti's two leading sculptors.  Like the "first generation" artists, Bien-Aimé creates his sculptures by koupe fè (Kreyol for "cut iron") using hammer and chisel to cut the forms out of dwoum - oil drums which have been burned, cut open and flattened.   But he is renowned as the artist who broke out of the two dimensional plane, with objects - such as leaves and flowers - that project from the plane of the steel sheet, and others - such as fish and crabs - that hang from pieces of wire and chain.   While the work of most of the steel-drum artists is infused with the stories and symbols of Vodou, Bien-Aimé's stood out because, as a convert to Seventh Day Adventism, much of his work told the stories of the Bible (especially Adam and Eve).  He also delights in the stuff of daily life.  As the critic Selden Rodman wrote,  "part of his originality stems from an uninhibited sense of humor." 
Bien-Aimé's work has been exhibited internationally, notably in the groundbreaking 1989 show at the Centre Pompidou in Paris, Magiciens de la Terre.  His works are in the permanent collections of the Centre Pompidou, the Musée du Quai Branly, the Musée National d'Art Moderne de Paris, the Waterloo Museum, the Figge Art Museum, the Milwaukee Art Museum, Le Centre d'Art, and the Musée d'Art Haïtien du Collège Saint-Pierre.  
His work is published in Where Art is Joy (Rodman, 1988), Forgerons du Vodou/ Voodoo Blacksmiths (Foubert, 1990), Magiciens de la Terre and A Haitian Celebration: Art and Culture(Stebich, 1992).
 In July of 2021, marking his fiftieth year as a sculptor, Gabriel Bien-Aimé participated in the International Folk Art Market in Santa Fe, NM.  The event fell only a week after the assassination of Hait's president.  In the state of siege which followed all of the airports were closed.  But the Port-au-Prince airport reopened a day before he was due in Santa Fe.  Gabriel arrived with all of his work crammed into two bulging suitcases, and he was able to hang his show - which sold out.  Since July Haiti has suffered an earthquake and a hurricane and most recently an outbreak of gang violence and kidnapping which has terrorized the country and brought the economy almost to a standstill.   Croix des Bouquets has been at the epicenter of the violence, and all of the artists working there are at risk.  Gabriel moved his workshop to a more remote village and has recently been able to visit the United States with some of his new work.  This collection includes a selection of recent works along with some early works from the collection of the late American artist Rudi Stern.
Read More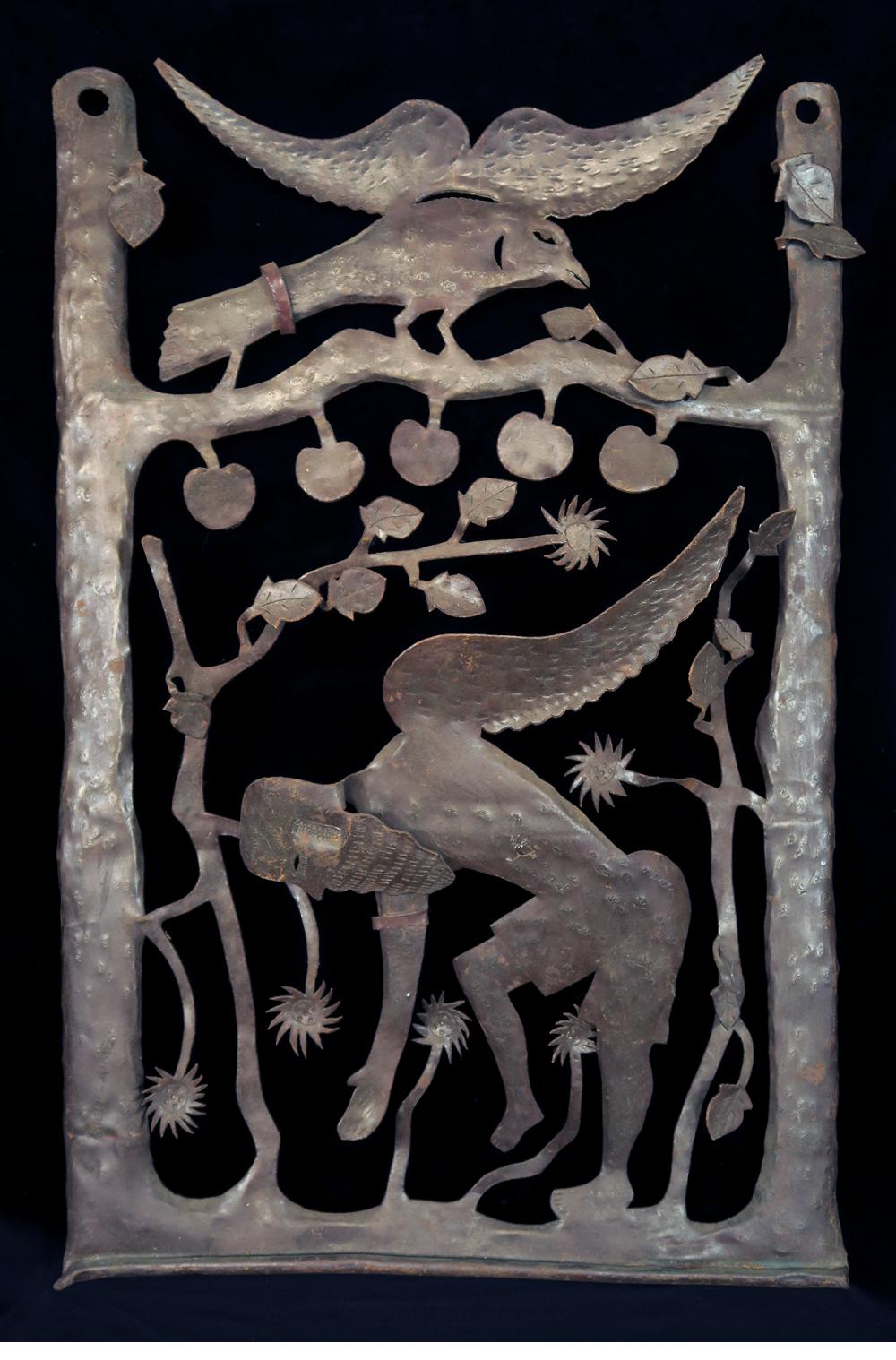 September 8, 2021

to

December 31, 2021
Indigo Arts is honored to present a selection of Haitian sculpture from the collection of the late American multi-media artist and filmmaker, Rudi Stern.  
Born in New Haven, Connecticut in 1936, Rudolph George Stern studied art at Bard College and the University of Iowa, receiving a Master's degree in 1960.  He studied painting with Oskar Kokoschka and Hans Hoffman.   Moving to New York In the mid-sixties, Rudi Stern quickly became immersed in the New York avant-garde art scene.  He collaborated on multimedia installations of kinetic art, with installations at the Electric Circus nightclub and produced light shows for groups including The Byrds, The Doors and The Rascals.  He produced the "Psychedelic Celebration Number One" for LSD guru Timothy Leary.  He founded the New York gallery and studio Let There Be Neon in 1972.   His design work included producing neon pieces for the Broadway show, Kiss of the Spider Woman.
 
In the late 1980s Stern traveled to Haiti and began a second career as a filmmaker.  In six years living and working in Haiti Stern was involved with 14 documentary films,  notably the 1992 documentary Haiti:  Killing the Dream, with Katharine Kean, produced by Jonathan Demme.  The films document the political "dechoukaj" unrest following the demise of "Baby Doc" Duvalier, the oppressive rule of subsequent military dictatorships and the extraordinary rise of priest turned politician Jean-Bertrand Aristide.
  
While living in Haiti Stern became entranced with the work of Haitian artists, notably the makers of fantastic papier maché carnival masks in Jacmel, and the sculptors of Croix des Bouquets who hammered spiritual works out of recycled oil drums.  His collection includes work by Jonas Pascal and early work by master artist Gabriel Bien-Aimé.  He also collected a variety of street art which reflected the potilcal tumult of the time and the US/UN invasion - notably tanks, helicopters and other military hardware made from recycled plastic bottles and other trash.
In the late 1990s Stern continued his work with the art of light.  From 1999 to 2001 his multi-media installation "Theater of Light" was shown in multiple locations in New York and New Jersey.  "Involving multiple screens, thousands of painted glass slides and more than 30 projectors, "Theater of Light" surrounded audience members with densely layered, constantly changing images, intricately choreographed to music." (New York Times).  Stern lived in Europe in his later years.  In 2004 he married Raffaella Michela Trivi.  Their daughter Stella was born in 2005.  Rudi Stern passed away in 2006 in Cadiz, Spain. 
Read More