W E L C O M E to Indigo Arts.
We hope you enjoy exploring our galleries. Indigo Arts celebrates color, texture, and the boundless creativity of the human spirit, with a collection of art and artifacts from Africa, Asia and the Americas.
Our inventory includes antiques and one-of-a-kind artifacts of traditional cultures as well as the finest examples of contemporary and folk arts. We endeavor to purchase directly from the artists whenever possible and to buy from cooperatives and arts organizations which return the maximum amount to the artists themselves.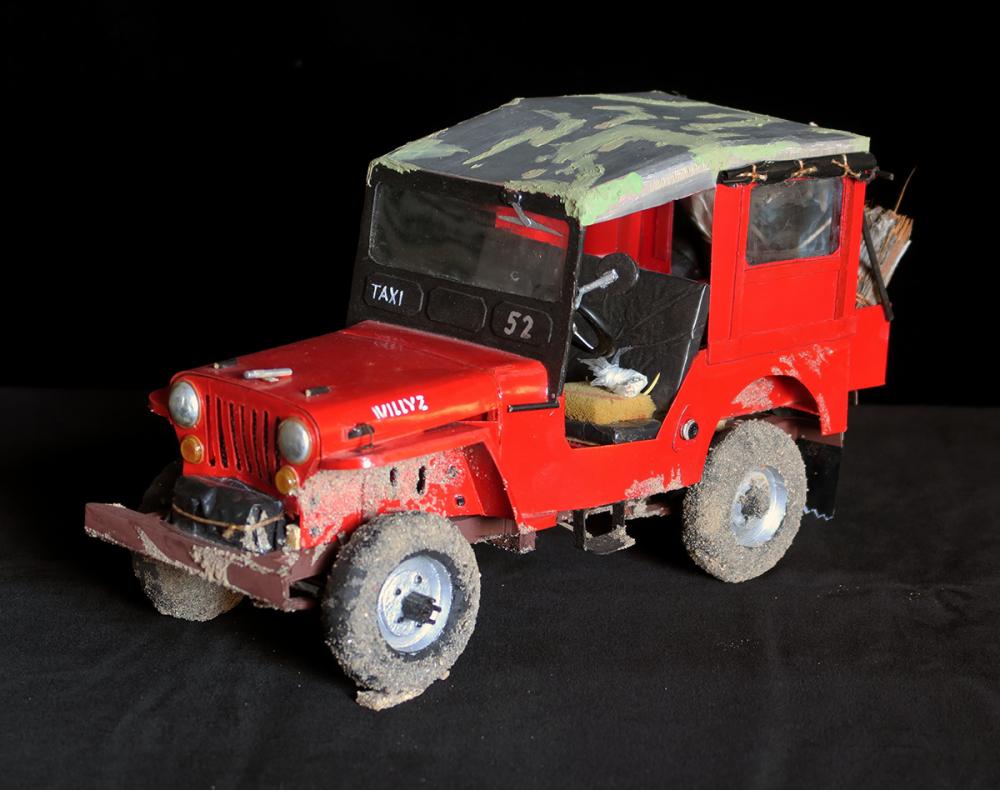 November 23, 2022

to

January 23, 2023
An Online Exhibition for the Holiday season.
The world of folk and outsider art, like most other things in our world, moves on wheels - 
Two Wheels,
Three Wheels,
Four wheels,
and more.
On rails,
or in the air.
I dedicate this exhibition to my brother Jonathan, who epitomized the romance with everything on wheels.
Jon was a loving brother, son, father and grandfather who passed away last month, far too soon. Jonathan was a motor head from the start. He progressed in life from Dinky toys to go-carts to motorcycles to a long series of charismatic but mostly unreliable foreign vehicles. The Land-rover was his greatest love - starting with the family car in 1957 Ethiopia.  Te four of us sat in the back on bench seats (seatbelts had not yet been imagined).  When we misbehaved we rode on the roof.  Fortunately the Land-rover couldn't do over 59, and Ethiopian roads rarely permitted that.
Jonathan joined me on some of my life's greatest adventures (and led me into some of my more foolish risks).  He was five when they brought me home from the hospital.  My  brothers were waiting at the door with the red Radio-Flyer wagon, made up with pillow and blankets, ready to take me on a tour of the neighborhood. Jonathan retrieved me both times that my parents' Datsun pickup truck was totaled (attacked the first time by a herd of deer and the second by a Porsche). 
In 1977, when we were both working in Lesotho, Jon entered the Roof of Africa Rally.  He drove a rusty old Austin Gypsy, a variant on the Land-rover. I was Jon's ground crew for the race. I watched him take off from Maseru with considerable speed and great enthusiasm. I waited, and waited, for news of his progress.  He didn't clock in after the first checkpoint.   This was long before the days of cell-phones.  I learned finally that the engine had blown on the first escarpment.  He hitched a ride back to town.
Rest in peace Jon.
Read More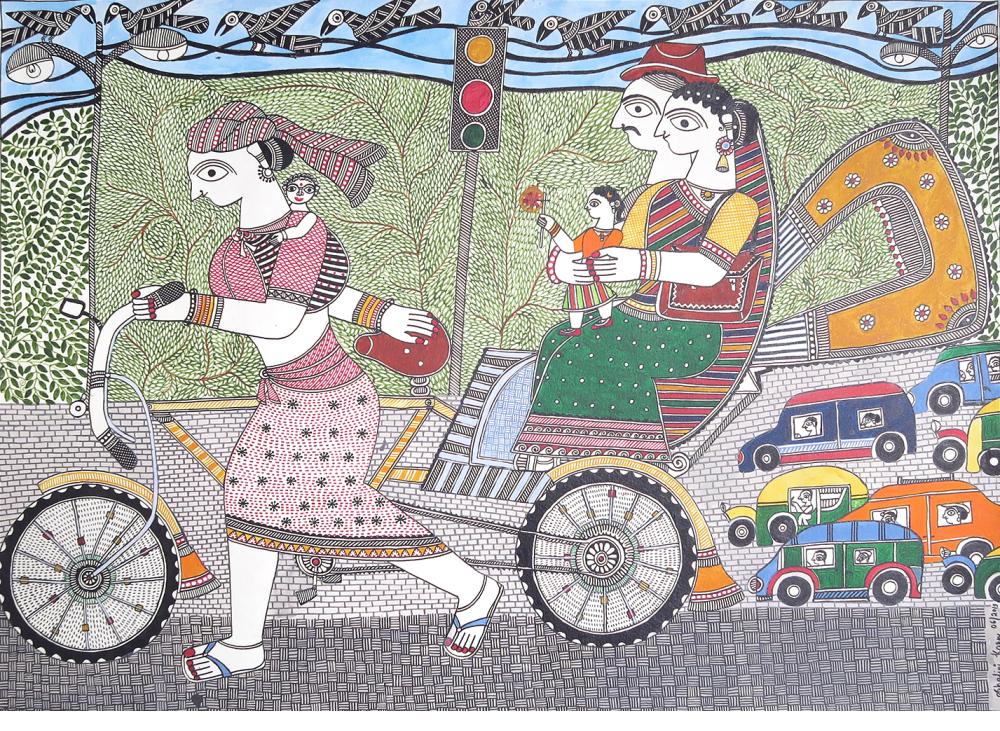 September 29, 2022

to

January 25, 2023
The Maithil paintings of Nepal and the Mithila or Madhubani paintings of Northern Bihar, India are two sides of the same art form.  The historic Mithila kingdom once spread across the southeast plains of Nepal and the northern Bihar and Jharkhand states of India.  In both countries an ancient domestic wall painting tradition has been adapted to painting on paper, but it has evolved differently and at different times in the two countries. 
For centuries the women of Mithila have decorated the walls of their houses with intricate, linear designs on the occasion of marriages and other ceremonies, Painting is a key part of the education of Mithila women, culminating in the painting of the walls of the kohbar, or nuptial chamber on the occasion of a wedding. The kohbar ghar paintings are based on mythological, folk themes and tantric symbolism, though the central theme is invariably love and fertility.
The contemporary art of Mithila painting was born in the early 1960's, following a terrible drought and famine in Bihar. The women of Mithila were encouraged by the All-India Handicrafts Board to apply their painting skills to paper as a means of supplementing their meager incomes. Once applied to a portable and thus more visible medium, the skills of the Mithila women were quickly recognized. The work was enthusiastically bought by tourists and folk art collectors alike.  As with the wall paintings, these individual works were painted with natural plant and mineral-derived colors, using bamboo twigs in lieu of brush or pen.
A wide range of styles and qualities of Mithila art have evolved over the ensuing sixty years.   Styles were differentiated by region and caste - particularly the Brahmin, Kayastha and Harijan castes. Many individual artists emerged with distinctive styles. Among the best known early Brahmin artists were the late Ganga Devi (1928-1991), Baua Devi (b. Late 1940s), Sita Devi, Karpoori Devi and Mahasundari Devi (1922-2013).  Baua Devi was the only woman artist from India to show at the groundbreaking  Magiciens de la Terre exhibit in 1989 at the Centre Pompidou in Paris.  In 1990, shortly before her death,Ganga Devi painted her masterpiece, a kohbar ghar mural covering several walls in the national Crafts Museum in Delhi.  Sadly, and inexplicably the directors of the museum demolished the mural during a renovation in 2015.  
Today's leading artists, working in the kayastha style, include Pushpa Kumari  granddaughter of Mahasundari Devi.  Other painters in their family include Pushpa's brother Pradyumna Kumar and younger sister Mala Karn.   Among the current generation of Mithila artists, Pushpa and younger artists such as Mahalaxmi Karn and Shalini Karn have expanded the canon to embrace contemporary issues of education, technology, women's rights, marriage equality and even female infanticide.  
In Nepal the transition from painting on walls to painting on paper came later, spurred by the founding of the Janakpur Women's Development Centre in 1989.  The initial group of women who came from their villages to the centre in Janakpur decided to paint on the handmade lokta paper characteristic of Nepal, and to paint with brushes and acrylic paint rather than the sticks and mineral pigments used on the walls of their houses.  This gave their paintings a look quite distinct from those of the Indian Mithila artists, though many of the traditional subjects of village life, animals and Hindu gods and goddesses were similar.  As in India, the women were quick to take on contemporary themes as well:  "being associated with a development project they were soon making paintings promoting Vitamin A, the chance to vote, safe sex and saying "no" to drugs."  
In both countries the artists have ventured into non-traditional topics, leading critics to write of a "feminist renaissance" in Mithila art.  A painting by Nepali artist Madhumala Mandal shows a woman in traditional dress operating a huge backhoe with ease.  Indian artist Shalini Karn paints a rickshaw driver with her baby strapped to her back confidently pedaling a family through city traffic.  Mahalaxmi's series called, "Household Diaries," depicts women in their "various incarnations"— wives, mothers, workers and painters.  She depicts a modern Indian woman caring for a baby, taking a child to school, tending to crops, picking flowers and taking selfies on her phone.  In a wry commentary on the patriarchy, a woman massages her husband's feet while he reads the paper, with the flat screen TV watching over the scene.  In this time of Covid, Manjula Thakur paints a masked driver driving a busload of masked passengers.   In Mother Train, a 2020 painting that seems painfully innocent today,  Mahalaxmi depicts a mask-wearing train carrying its cargo of masked migrant workers home during a pandemic lockdown.  In "Waiting for the Pandemic to End" she paints a masked mermaid-like goddess, calmly reading a book about Peace and Love.
Read More