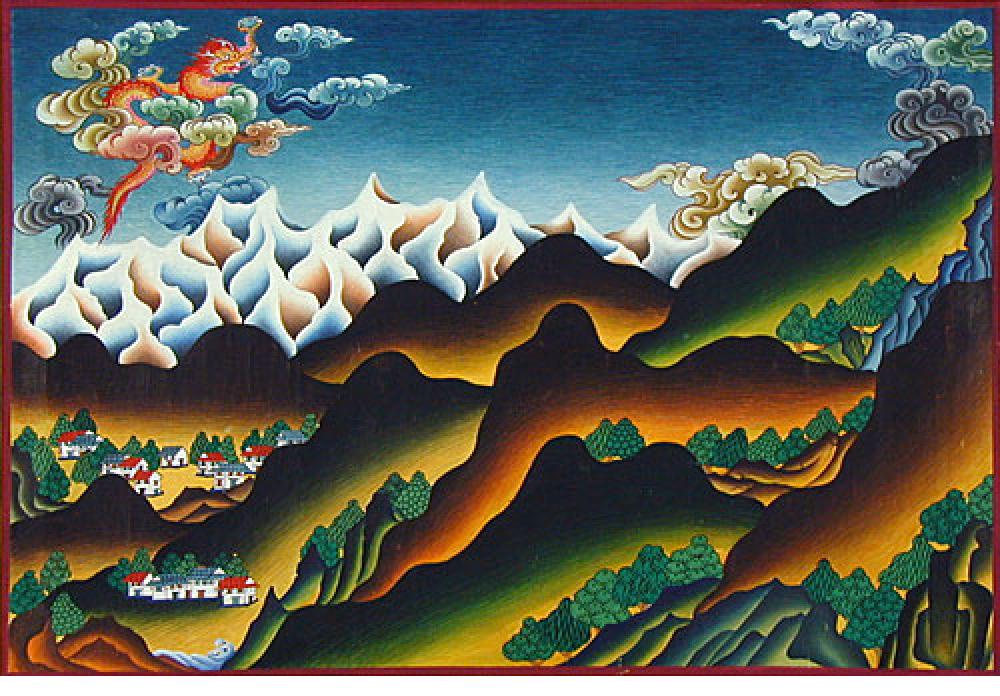 December 2, 2005

to

February 26, 2006
Tibetan Landscapes and Thangka paintings by Karma Tsering Lama, Nima Gyamcho Lama & Binod Moktan
 
PHILADELPHIA - Sky Above and Earth Below, which opens at Indigo Arts Gallery on December 2nd, 2005, features the work of three Tibetan artists. Karma Tsering Lama and Nima Gyamcho Lama are masters of the intricate Tibetan Buddhist devotional paintings known as Thangkas. Binod Moktan, also skilled a painter of thangkas, applies his talents to painting the Himalayan landscape of his memory. The exhibit opens with a reception on First Friday, December 2nd, from 5:00 to 9:30 pm. The artists will also be at Indigo Arts on the afternoon of Saturday, December 10th (3:00 to 5:00pm) for a demonstration of the art of Thangka painting.
Though they live today in Nepal and the United States, these three artists work in a Tibetan painting tradition which stretches back over a thousand years. The earliest extant thangka paintings date to ninth century Tibet. Meaning literally, "rolled art", the thangka is a Buddhist scroll painting used for a variety of spiritual, didactic or social purposes. They might be commissioned to teach the young, to help heal the sick, to aid the dead in their reincarnation, or more commonly as a focus of meditation by the faithful. Subjects might be the Buddha or numerous other deities, great teachers, or ornate mandalas - geometric diagrams of the cosmos. Since old Tibet was largely a nomadic country, the thangkas were designed to be portable. Painted with water-based mineral pigments on cotton fabric, they were framed with ornate silk brocades and hung on rods. They could be rolled up and carried by both roaming herders and monks travelling between monasteries.
When the Chinese occupied Tibet in 1959 they destroyed ninety percent of the monasteries and most of the murals and larger artworks. But the portability of the thangkas allowed a larger proportion of them to survive, and the tradition has been kept alive in the exile of Nepal, India and beyond.
Karma Lama, Nima Lama and Binod Moktan are at the center of the effort to keep the thangka tradition alive. All three artists were born in the Sindhupalchock district of Nepal, close to the Tibetan border.
Karma Tsering Lama was born in 1961, and painted his first thangka at the age of nine. After years of painting he now devotes much of his time to training others. He has directed the Dharmapala Thangka Center in Kathmandu since 1982. He has exhibited his work, and instructed people in the art of the thangka, in Japan, Europe and the United Statews, as well as Nepal.
Nima Gyamcho Lama who was born in 1962, is also one of Nepal's leading thangka artists. He has participated in many exhibitions of thangka art over the last decade, including a UNESCO show in Paris in 2004 and has been the recipient of many awards for his work. This year he was awarded the Gorkha Dachhin Bahu award by the king of Nepal, Gyanendra Bir Bikram Shah Dev.
Born in 1963, Binod Moktan descends from nine generations of priests and teachers of Tibetan Buddhism. His grandfather was a master of Buddhist Tantra and head priest of the Tashi Chyoifeling Monastery. Binod received instruction in religion, philosophy and history and well as painting from his grandfather, and began painting thangkas at age twelve. When he moved to Kathmandu, Moktan ventured into landscape painting as well. Working in what is known as the Neo-Tibetan style, he renders the spectacular Himalayan landscape, the "sky above and the earth below" in a stylized manner which owes much to the thangka. Binod Mokhtan now lives in the Philadelphia area.
Indigo Arts, a Gallery of Ethnographic, Folk and Contemporary Arts from Asia, Africa, and the Americas, is located at 151 North 3rd St. (Second Floor) in Old City, Philadelphia, 19106.

To see more of this art visit our Thangka Gallery and our Binod Moktan Landscape Gallery .