Late August Calendar
I will be away from the gallery from Friday, August 23rd through Labor Day, September 2nd.  
The Indigo Arts website will be open for business, taking orders as usual, but the gallery will be closed and we will not be shipping orders until September 3rd.  
I apologize for any inconvenience.
Happy Labor Day!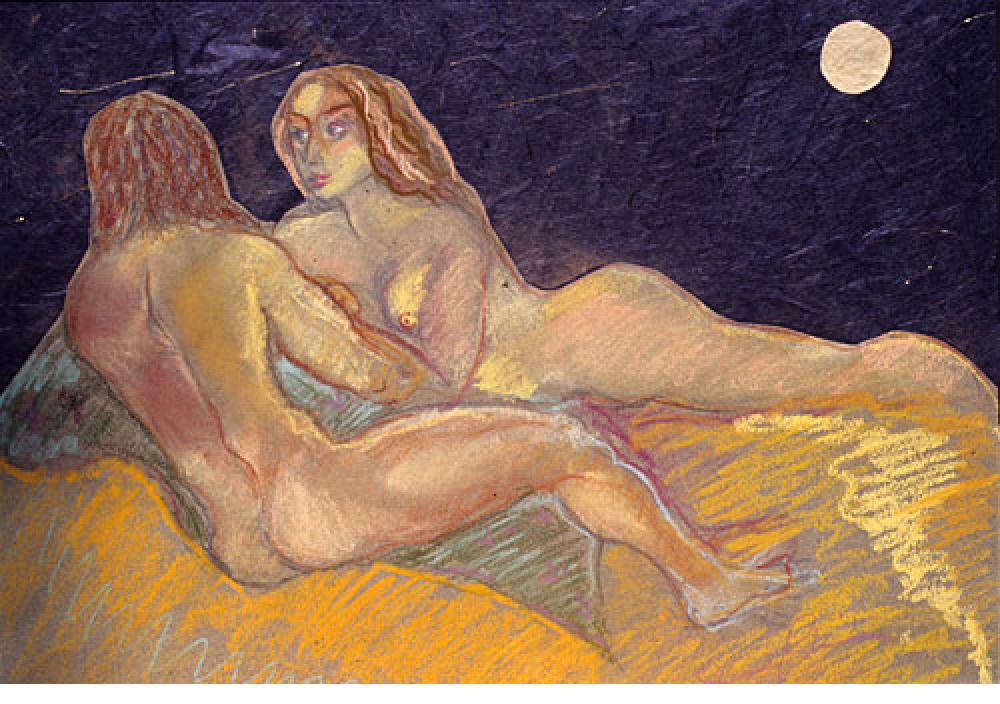 October 1, 2004

to

October 31, 2004
Pastel Collages, Prints, Scrolls and Ceramic works
 
How to steal water from the moon? Susan Rodriguez, an award-winning art educator who is on the faculty at the University of the Arts, will attempt this artistic feat in a one-woman exhibit, appropriately titled, Stealing Water from the Moon. The exhibition, which opens on First Friday, October 1st at Indigo Arts Gallery in Old City, will remain on display until October 31st, 2004. Alongside Rodriguez's work Indigo Arts will be displaying New Work from Latin America, a selection of recent paintings and works on paper, primarily from Mexico and Cuba.
Rodriguez, an artist who is passionate about teaching, determined the show's title based on its particular sentiment. "There's a Japanese Zen saying that signifies the quest for the unattainable - which I believe essential to the creation of one's art. Artists are always searching for certain meaning in the images they conjure", says Rodriguez. "Not unlike teaching, there is immeasurable joy in a realized human exchange." The exhibit is a rich offering of mixed media, mainly what Rodriguez describes as pastel collages. Rodriguez's work is largely figurative. "My art is devoted to the universe we call the figure. I am hopelessly in love with the male and female body, and its miraculous affinity to be expressive of all that is human and divine." It is clear that the educator artist is wholly inspired by cultural diversity. The exhibit draws upon a wide variety of sources, from Asia to the Caribbean. The body of her work, which also includes scrolls, prints and ceramics, is in keeping with the spirit and worldview of Indigo Arts Gallery.
"I'm in love", admits Rodriguez. "But don't ask me to choose - drawing, teaching, culture, visual and written narrative, the figure - all define my universe. Perhaps", she muses, "I've even managed to steal a little dew from la luna?" Come and see for yourself.
Artist's Statement: Susan Rodriguez
My work is devoted to the universe we call the figure. I am hopelessly in love with the male and female body, and its miraculous affinity to be expressive of all that is human and divine. Memory and longing, disappointment, joy, anticipation, fleeting thoughts... everything is registered in muscle, fiber, tissue and bone. It is my charge as an artist to render tangible the narratives that bodies contain, principally through figural pastels. I employ decorative and organic materials in my compostions, particularly papers and textiles. By this measure, my art is best described as collage and/or mixed media. All are works-on-paper, and are infused by a spectrum of diversity that embraces Asian and African art. To make sense of the imagery I strive to convey, I defer to the artistic powers my work honors. Picture the scenic vignettes and surface techniques of Romare Bearden, apply the textures found in Edgar Degas' pastel chalks. To this fusion, add the rasa sentiments experienced in Indian manuscript art, and garnish with the play of pattern that delights us in Japanese art. While all artists are nourished by other art and artists, in the words of Frida Kahlo, "I paint my own reality". My search is always for new means to reveal the silent dialogue that exists inside and between figures - singular, coupled, and grouped - in the intimate worlds my own art presents. It is my experience as a woman with strong cultural ties that profoundly inspires my personal cultural vision.