Gerard Fortuné (1924* - 2019)
by

AFisher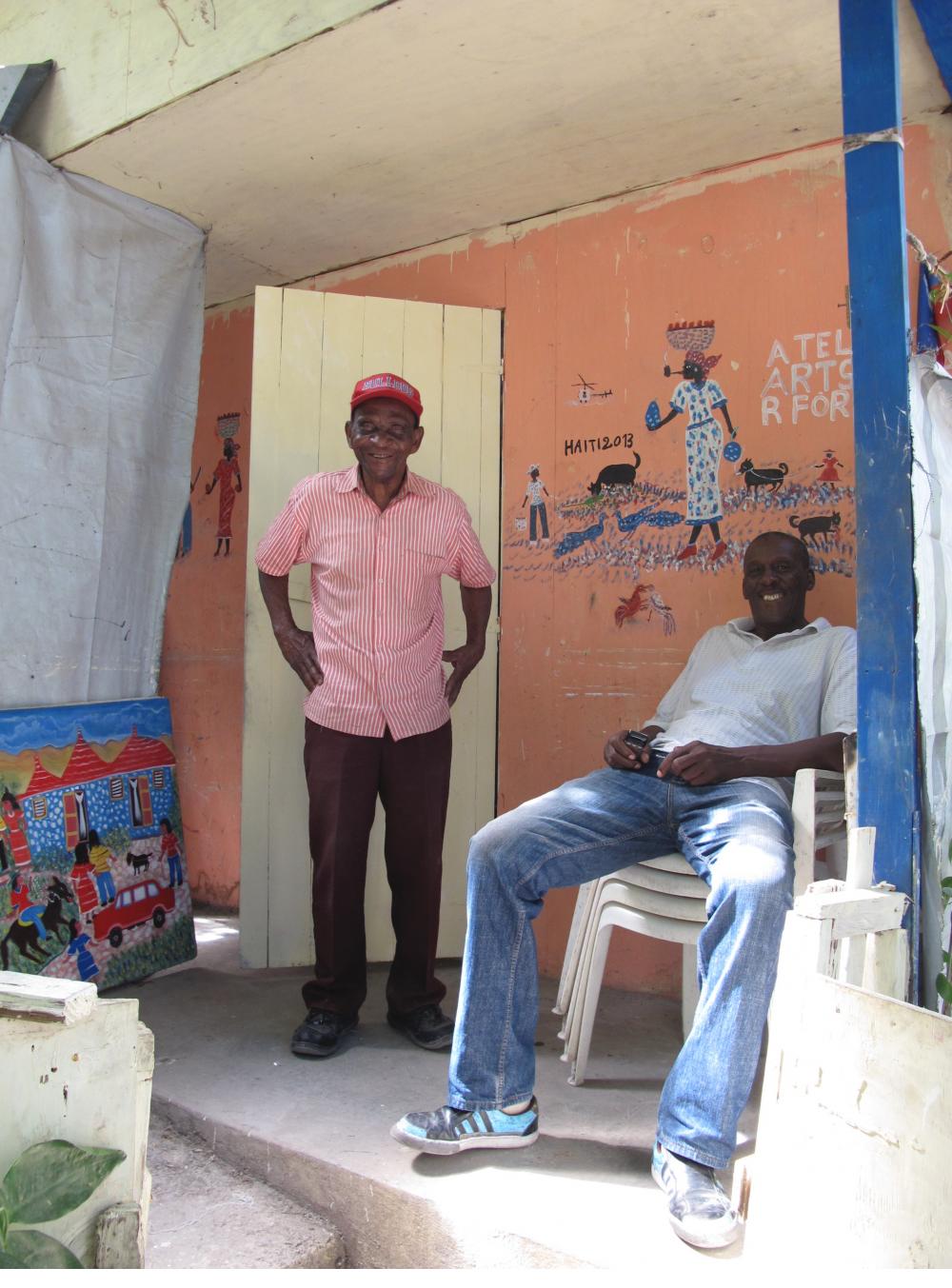 I was sad to learn the news that Gerard Fortuné, the playful, prolific and much loved Haitian naif artist passed away on December 8th, 2019.  I have heard several dates cited for Gerard's birth, - 1933, 1925, and according to the obituary below from Le Centre d'Art, 1924.  And he had told me that he did not know when he was born.  By the earliest date he would have been 95 when he passed away on December 8th.  He seemed almost ageless, and I had begun to believe that each time I visited Haiti Gerard would still be there.  Sadly not so.  I quote below the notice posted by Haiti's Le Centre d'Art on their Facebook page - first in a pretty rough Facebook translation, followed by the original French:
Announcement of death ⎜ Gérard Fortuné
The funeral of the painter Gérard Fortuné will be sung in the church of St-Pierre of Pétion-Ville on Saturday, December 2019, 14 at 9 am. The remains will be exposed at 8 am. The family will receive on Friday, December 2019, 13 at the parish hall of St-Pierre Church from 5 AM TO 7 PM. The funeral will take place in lamothe.
Gérard Fortuné was born in 1924 in Montagne-Noire, in the heights of Pétionville. From a modest family, in an adult age, he worked at the service of opulent families as a intendant and then cook-Pastry. It was only in the early 1980 s that he started self-taught painting.
He begins to paint and craft with recycled materials, covering bags of rice, paintings mounted on chassis in branches or agricultural vans of characters in significant perspective, bright colors and meticulous details.
During his visits to Issa el Saieh's gallery, Gérard falls under the spell and is inspired by the works of artists such as André Pierre, André Normil, the "Saint-Soleil" community or Hector Hyppolite.
Quickly, he meets personalities from the visual arts world who will be mentors for him: Michel Monnin, Nader, Judith Chamber among others.
His paintings are bigger and with them its innate sense of color and composition; its range of subjects, its vibrant imagination, originality and sense of humor. An important figure of Haitian naive art, the series of oil on canvas by Gérard Fortuné help to establish the myth of voodoo as an inspiration for the liberation of Haiti. "I don't go to the voodoo ceremonies, the LOA come here", one day said Gérard Fortuné. His painting, written in an absolute syncretism, displays the influence and integration of the Catholic religion whose subjects are widely borrowed from Christianity.
Gérard's work has been exhibited internationally, it is included in the permanent collections of the Waterloo Center for the Arts in Iowa, the Huntington Museum of art in Virginia, Ramapo College in New Jersey, and the collection of the Art Patricia & Philip Frost from the Florida International University  and the Museum of Aquitaine in Bordeaux.
At the dawn of the new millennium, filmmakers will play in their film works. This is the case for Dreamers of Jorgen Leth (2002) and Jambes de Bois or Gérard Fortuné, the Last of the Naives of Arnold Antonin in (2015).
" Gérard was of those beings who make the impression of being eternal. Not because of his energy at his 84 years old but because he has always been in another world, flying over with lightness and the smile all the things of life from here. " Arnold Antonin
Gérard Fortuné died on December 08, 2019.
Photo 1: Paolo Woods, 2011
Photos 2 AND 3: The Art Center, 2018
ANNONCE DE DECES ⎜Gérard Fortuné
Le funérailles de l'Artiste-Peintre Gérard Fortuné seront chantées en l'église St-Pierre de Pétion-Ville le samedi 14 décembre 2019 à 9h30 am. La dépouille sera exposée dès 8h30 am. La famille recevra le vendredi 13 décembre 2019 à la Salle paroissiale de l'Eglise St-Pierre de 5h à 7h pm. L'inhumation aura lieu à Lamothe.
Gérard Fortuné est né en 1924 à Montagne-Noire, dans les hauteurs de Pétionville. Issu d'une famille modeste, à l'âge adulte, il travaille au service de familles cossues comme intendant puis cuisinier-pâtissier. Ce n'est qu'au début des années 1980 qu'il se lance dans la peinture en autodidacte.
Il commence à peindre et à bricoler avec des matériaux de récupération, recouvrant des sacs de riz, toiles montées sur châssis en branches ou des vans agricoles de personnages en perspective signifiante, d'aplats de couleurs vives et de détails minutieux.
Lors de ses visites à la Galerie d'Issa El Saieh, Gérard tombe sous le charme et s'inspire des œuvres d'artistes comme André Pierre, André Normil, la communauté « Saint-Soleil » ou Hector Hyppolite.
Rapidement, il rencontre des personnalités du monde des arts visuels qui constitueront des mentors pour lui : Michel Monnin, Nader, Judith Chambers entre autres.
Ses toiles se font plus grandes et avec elles son sens inné de la couleur et de la composition; son éventail de sujets, son imagination vibrante, son originalité et son sens de l'humour. Figure importante de l'art naïf haïtien, les séries d'huile sur toile de Gérard Fortuné contribuent à asseoir le mythe du vaudou comme instigateur de la Libération d'Haïti. « Je ne vais pas aux cérémonies vaudou, les loa viennent ici », a un jour déclaré Gérard Fortuné. Sa peinture, inscrite dans un syncrétisme absolu, affiche l'influence et l'intégration prégnantes de la religion catholique dont les sujets sont largement empruntés au christianisme .
Le travail de Gérard a été exposé internationalement, il est inclus dans les collections permanentes du Waterloo Center for the Arts dans l'Iowa, du Huntington Museum of Art en Virginie, du Ramapo College de New-Jersey, ainsi que de la Collection du Musée d'Art Patricia & Philip Frost de L'Université Internationale de Floride et de celle du Musée d'Aquitaine à Bordeaux.
A l'aube du nouveau millénaire, des cinéastes immortalisent dans leurs œuvres filmiques. C'est le cas pour Dreamers de Jorgen Leth (2002) et de Jambes de bois ou Gérard Fortuné, le dernier des naïfs d'Arnold Antonin en (2015).
« Gérard était de ces êtres qui donnent l'impression d'être éternels. Non pas à cause de son énergie à ses 84 ans mais parce qu'il a toujours été dans un autre monde, survolant avec légèreté et le sourire toutes les contingences de la vie d'ici-bas. » Arnold ANTONIN
Gérard Fortuné s'est éteint le 08 décembre 2019.
Photo 1: Paolo WOODS, 2011
Photos 2 et 3: Le Centre d'Art, 2018