José Garcia Montebravo at Indigo Arts!
by

AFisher
We were privileged to host one of Cuba's leading self-taught artists, José Garcia Montebravo, on his visit to Philadelphia on Wednesday, July 17th, 2002. Montebravo spent the entire day with us at Indigo, even painting a beautiful new work while he was here. As is his habit, Montebravo painted on a canvas right on the floor of our second floor gallery. We watched in awe as an acrylic painting of a woman in a red dress, an infanta (princess), materialized on the canvas. Monte christened her for her birthplace, La Infanta de Philadelphia. He told us this was only the second painting he had painted in the United States.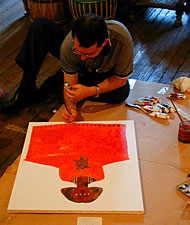 José Garcia Montebravo painting
La Infanta de Philadelphia at Indigo Arts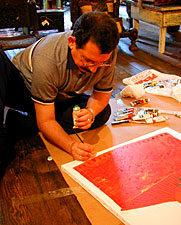 José Garcia Montebravo working on a detail of
La Infanta de Philadelphia at Indigo Arts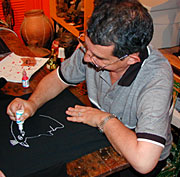 Montebravo drawing on a T-shirt with textile paint.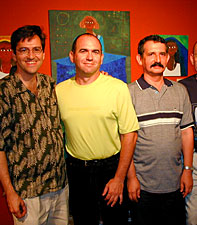 José Garcia Montebravo (right), with Tony Fisher & Miguel Angel Rodriguez at Indigo Arts, Philadelphia, Pa, July 17, 2002
In honor of his visit, Indigo Arts showed a new selection of Montebravo's paintings and drawings. Montebravo's work has been a prominent feature (and without a doubt the best seller) of our three annual group shows of self-taught artists from Cuba. We will be adding some of the new Montebravo, works to our web gallery over the upcoming weeks.