Philadelphia Inquirer Twins Seven Seven Review
by

AFisher

Royal Salute

By Victoria Donohoe FOR THE INQUIRER
Published: January 6, 2012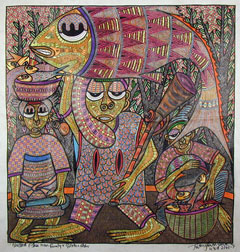 Twins Seven-Seven - Blessed Fisherman Family and Golden Fish,
Prince Twins Seven-Seven changed his birth name, Olaniyi Osuntoki, to signal his status as the sole surviving child of his parents' seven sets of twins. "They believed that I was the reincarnation of twins they had lost," he told The Baltimore Sun in 2001.
Prince Twins Seven-Seven (1944-2011), a prominent Nigerian folk artist and musician (and, yes, prince) who spent much of the last 15 years of his life in Philadelphia, is featured in a memorial solo show at Indigo Arts Gallery. It emphasizes his background as one of the original artists, and a star, of the Oshogbo School workshops' art movement, which arose in newly independent Nigeria in the early '60s. The artist - his parents' only surviving child of their seven sets of twins - developed a strikingly beautiful and meticulous folk-art style to portray village scenes, creatures (especially birds and fish), and deities such as the goddess Oshun. This show is a fitting salute to one of the most accomplished and widely exhibited Nigerian artists of his generation.
Also on view are contemporaries, notably Asiru Olatunde (1922-1995) with a hammered-aluminum relief, Eden, and younger Nigerian painters inspired by Seven-Seven.
6 Jan 2012

This article appeared in print in the Philadelphia Inquirer on Jan 6, 2012.