Twins Seven Seven Exhibition Review
by

AFisher
By libby
December 30, 2011
You can find and admire work by an internationally known and feted artist, Twins Seven-Seven, who died this past year, right inside the Crane, at Indigo Arts.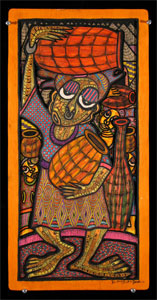 Courtesy of Indigo Arts Gallery
Twins Seven-Seven, The Woman Carrying Water, 2007
oil, acrylic, ink and pastel on plywood
Indigo, which mostly eschews the vast U.S. commercial art industry by focusing on art from third world, folk and outsider artists, has been the late, great Twins Seven-Seven's go-to gallery in Philadelphia since his first show there in 1996. And in a way I suppose we can think of Seven-Seven's work as crossover–not so much Nigeria crossing to Philly but outsider crossing over to insider. The artist's work after a brief dip in popularity the '90s–has returned as a force as African art has grown in popularity.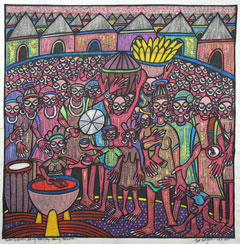 Courtesy of Indigo Arts Gallery
Prince Twins Seven-Seven, Priest and Priestess in Festivity Mood of Ibeji Ceremony, 2007
acrylic & ink on fabric
Seven-Seven was a character. Born into the Yoruba tribe in Nigeria, he was the last of seven successive sets of twins in a family of royal lineage, so the artist dubbed himself Prince Twins Seven-Seven, say the gallery notes. He did not start out as an artist, but as a musician, a contemporary of Fela, said Gallery owner Tony Fisher the day I was there. However, once Twins discovered his inner artist, he quickly became an art star. Eventually, he made Philadelphia his home.
The artist, who created heavily patterned scenes of gods and traditional African life, marched to his own drummer. The images–on panel, paper, and fabric–shimmer with activity. The show, Twins Seven-Seven Legacy of the Oshogbo Master, was in the planning when the artist died in 2011.
I found especially interesting a painting that could be considered virtually a failure–created once the artist's powers of concentration and control had succumbed to his final illness. Galley owner Tony Fisher said the artist's family here brought the work into the gallery after the artist died. Under normal circumstances, such a piece might have been hidden to maintain the myth of the artist's great powers.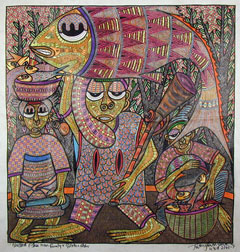 Courtesy of Indigo Arts Gallery
Prince Twins Seven-Seven, Blessed Fisherman Family and Golden Fish,
2007, acrylic & ink on canvas

But not only did the piece (not shown in post)–made on layers of wood–do no harm. It served as a reminder of just how complicated and fine the rest of Twins' work is, although it hardly requires a reminder. I for one found it poignant, assuming it is genuine–an expression of great power lost, no matter what the circumstances of its facture.
The artist, who is in the permanent collection of the Philadelphia Museum of Art and the Smithsonian, has an extensive, powerhouse record of exhibiting. The work at Indigo will remain up to Jan. 28, along with work from other artists–Yinka Adeyemi, Ademola Oyelami, Rahmon Olugunna, Aremu Jimoh,Phillip Olufemi Babarinlo, Tunde Odunlade, Toyin Folorunso, Yekini Folorunso– who also studied at the Oshogbo School and were influenced by Twins' work. The gallery put up a lot of the show's images.
This article appeared in theartblog.net on Dec. 30, 2011.