About the Artist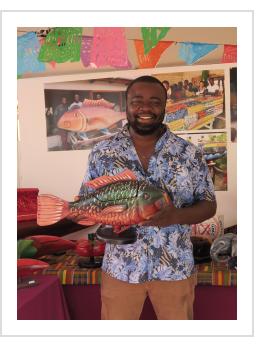 Design coffins are an innovation of Kane Kwei, who made the first design coffin in 1951. Originally meant as a palanquin for a chief, it was turned into a burial coffin when the chief died before it could be completed. The design coffin soon became a burial tradition among the Ga people of Ghana. Eric Adjetey Anang, the grandson of Kane Kwei, carves smaller versions of design coffins in shapes of everything from eagles and honey bees to chili peppers and airplanes, altering their purpose from burial vessel to art.
Wood, called Nyame Dua, for the design coffins is sourced from the forests of Ghana and hand-carved by the artist, his brothers, and their apprentices in the family workshop founded by Kane Kwei in Teshie, Greater Accra, Ghana. The coffins are finished with sandpaper and then painted with acrylic paint. The skills to produce design coffins were passed from Kane Kwei to his sons, and their sons, and Eric took over the workshop in 2005.
Though his family encouraged him to pursue office work Eric chose instead to continue the work of his grandfather, saying "it is my life's work." He has been chosen for residencies in Europe, Asia, Africa, and North America and his art is displayed in museums and galleries throughout the world, including the Stanley Museum at the University of Iowa, the Chazen Museum of Art in Madison, Wisconsin, and the Royal Ontario Museum in Canada.
(Biography courtesy of International Folk Art Market)