About the Artist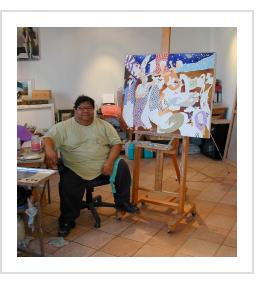 Biography - Leovigildo Martinez was born in the city of Oaxaca in 1959. He began his studies in 1977 at the Centro de Education Artistico de Oaxaca, and studied at the Taller de Artes Rufino Tamayo as well.
Exhibitions - Martinez has been included in a number of group shows since 1977, including the "Life, Legends and Dreams" show. A visit to California in 1987 led to a series of solo shows in Los Alto, Santa Clara and San Francisco.
Publications - Martinez has illustrated three children"s book (with author Matthew Gollub), The Twenty-five Mixtec Cats, The Moon Was at a Fiesta and Uncle Snake. The Cafe Pasqual's Cookbook featured the murals he painted in that celebrated Santa Fe restaurant.