About the Artist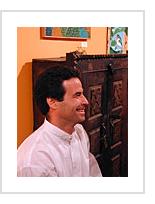 Born - 1966; Mella, Santiago de Cuba province, Cuba
Biography - A celebrated member of the 'Bayate' group of self- taught artists in the Village of Mella, near Santiago de Cuba. His paintings depict the events of daily life in small-town and countryside Cuba. He has been in numerous group shows in Cuba and the United States, as well as one-man shows in Santiago. His first visit to Indigo Arts Gallery was for the Por Un Mundo Mejor exhibition in October and November 2002.
His father, Luis Rodriguez Arias, and known as "el Maestro", to distinguish him from his son, is also a member of the group. Both men were featured in the June 11, 2000 New York Times article, "Ebullient Cubans Make a Lot Out of a Little".