About the Artist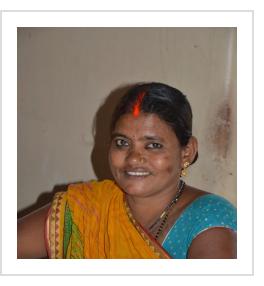 When I was 15 my father went to India to earn money. Coming back, he brought many things that were necessary for a wedding. Although those things were all second quality, I was looking forward to the wedding. I hoped to marry in Janakpur and that way I would gain some freedom.
In town the people usually are less traditional, more liberal. My parents had to pay 15,000 rupees for dowry. My in-laws also requested a radio and a bicycle. To me, my father gave only a silver hasuli (neck ornament) because jewelry lasts a long time whereas other things can easily break.
I learned to paint by myself, from what I saw painted on different houses. Our neighbours saw 
my paintings and asked me to paint their houses. So I started painting houses on the occasion of festivals. Because I like painting so much and because we needed the money, I wanted to join the Janakpur Women's Development Centre. So a friend told me to paint my house during festival time. During that time, people from the center were going to villages to find new artists. I painted my house and was chosen. Starting from the first money (500 rupees) that I earned, I managed to save 10,000 rupees to build a shop. With two incomes my husband and I could afford to send our four children to school. Usually I paint daily life situations and tattoos. Tattoos are very important in our culture. If you do not have tattoos, people will not accept you as a member of society. For example, no one will touch your food because they think it will not be tasty.
(Biography Courtesy of Janakpur Women's Development Centre)