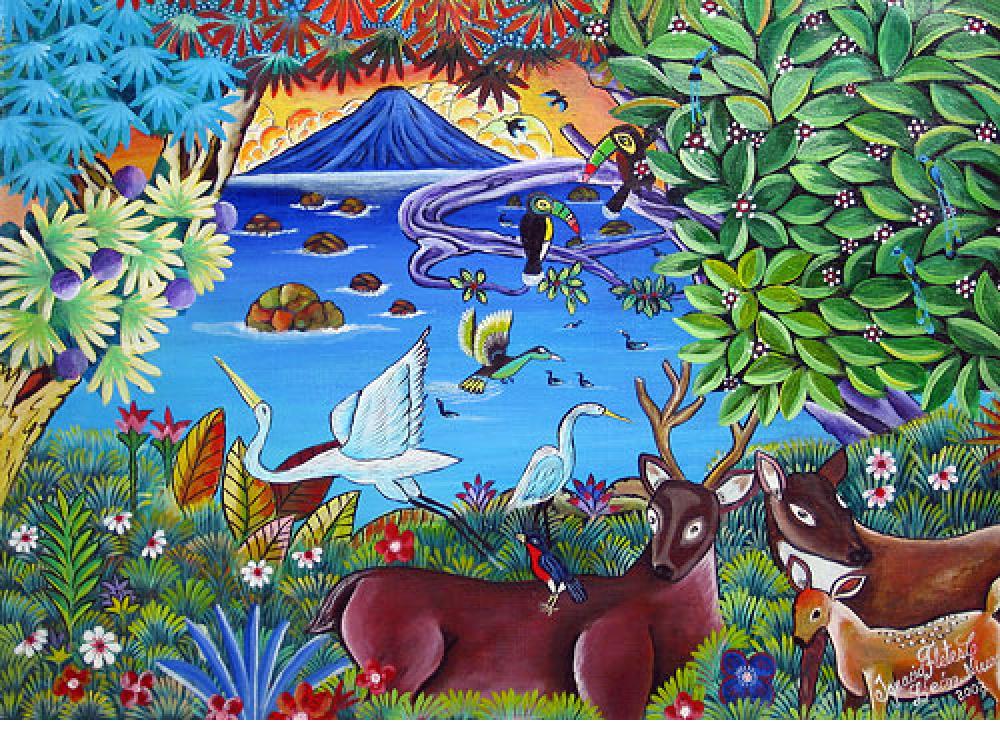 March 5, 2004

to

May 2, 2004
Philadelphia, PA - Noted Nicaraguan Primitivista artist, José Ignacio Fletes Cruz exhibits his lush landscapes and scenes of peasant life at Indigo Arts Gallery in Old City, Philadelphia, during the months of March and April. Fletes Cruz was on hand for the opening reception at Indigo Arts Gallery on First Friday, March 5th, from 5 to 9pm and at the gallery on saturday afternoon, March 6th (2-6pm), to demonstrate and discuss his work. The exhibit is on display through May 2nd. While in Pennsylvania, Fletes Cruz was commissioned to paint two murals in Gettysburg, at the Gettysburg Lutheran Seminary and at Gettysburg High School.
Ignacio Fletes Cruz is a veteran of the 'Primitivista' painting movement which arose during the upheaval of the Sandinista revolution in Nicaragua, and has continued to flourish under both the Sandinista and subsequent governments. These largely self-taught painters work in a naive style typified by scenes of community life, lush flora and fauna, and pastoral utopias, executed in bright colors and intricate detail. The paintings recount the folklore of Nicaragua and events in the country's history. The 'Primitivista' movement originated on the island of Solentiname in Lake Nicaragua, where Father Ernesto Cardenal had formed a small utopian Christian community in 1966. The community attracted worldwide attention as a center of art, poetry and the ideals of liberation theology. But it inevitably became a target of the repressive Somoza regime. In October 1977 the National Guard invaded the island and completely destroyed the community in a rampage of killing and rape. The survivors went into exile and many joined the Sandinista revolution. They ultimately prevailed with the overthrow of Somoza in 1979. Father Ernesto Cardenal became the Minister of Culture of Nicaragua, and the surviving peasants returned to rebuild Solentiname.
José Ignacio Fletes Cruz was born on July 31, 1952 in Managua, Nicaragua. He studied for one year at the School of Fine Arts in Leon before joining the original community of primitivistic painters on the Island of Solentiname. His work was included in the landmark book, The Gospel in Art by the Peasants of Solentiname (Orbis Books). Between 1978 and 1979, Fletes Cruz took refuge in Costa Rica, but he still contributed paintings to the movement to overthrow Somoza. After the war he settled in Leon and joined a group of painters known as El Grupo de Pintores Primitivistas Rodrigo Penalba Martinez. His work has been exhibited in many galleries in Nicaragua and in international exhibitions in Germany, France, England, Italy, Switzerland, Cuba, Austria, and Costa Rica. It has also been exhibited on several occasions by Americas' Arts Gallery in Gettysburg, and at Indigo Arts Gallery in Philadelphia.
El Grupo de Pintores Primitivistas Rodrigo Penalba Martinez is based in Sutiava, Leon, Nicaragua. Named after a famous Nicaraguan painter, the group also includes Santiago Crespin, Alejandro Cabrera and Rosa Delia Lopez , who have appeared in previous exhibits at Indigo Arts. The group has been together for well over a decade and is officially recognized by the Nicaraguan Ministry of Culture. Members of the group have won national prizes and exhibited internationally.
Indigo Arts wishes to express its thanks to Larry Knutson of Americas' Arts Gallery in Gettysburg, Pennsylvania, for arranging Mr. Fletes Cruz's visit to Indigo Arts Gallery, as well as the mural projects in Gettysburg.
TV ALERT!
An interview about Ignacio Fletes Cruz and this exhibition with Indigo Arts Gallery co-owner Tony Fisher airs in the Philadelphia area on the program Puerto Rican Panorama on April 4th and 5th, 2004. It airs on ABC affiliate Channel 6 (WPVI) at 6:00 AM on Sunday April 4th, and at about 3:20 AM on Monday, April 5th. No. its not exactly prime time, so set your alarm clock or your VCR!