About the Artist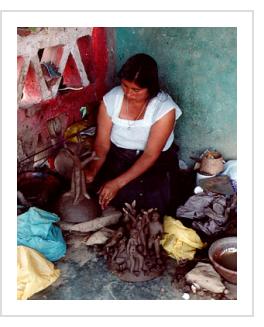 Josefina Aguilar Alcántara (daughter of Isaura and Jesús)
Born 1945, Ocotlan de Morelos, Oaxaca, Mexico.  Josefina was unquestionably the greatest artist of the very talented Aguilar sisters, and had a very prolific career.  Unfortunately Josefina is now blind and is no longer creating her own work.
The following brief bio is takern from Wikipedia:
Josefina Aguilar is a Mexican folk artist from Ocotlán de Morelos, Oaxaca.  She is best known for her small clay figurines, called muñecas, an art form she learned from her mother Isaura Aguilar. Aguilar uses red clay to create depictions of everyday village activities, religious and folkloric scenes, famous figures and special Day of the Dead statues. Collectors of her work have included Nelson Rockefeller, who discovered her work on a trip to Oaxaca in 1975 as well as repeat visitors to Oaxaca, who come to see her latest work. Children's book author Jeanette Winter has written and illustrated a counting book inspired by Aguilar's life and work.