About the Artist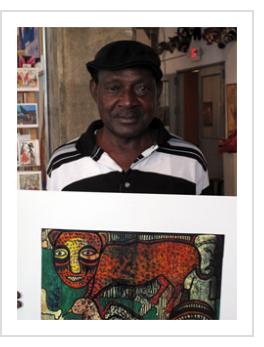 Philip Oluwafemi Babarinlo was born in Osogbo (Oshogbo), Osun State, Nigeria in 1946.  His artistic talent was discovered while he was still in primary school.  He won many awards at various art festivals organized by the government.
He attended All Saints Primary School and Anglican Secondary School, both in Osogbo.  He attended Yekini Atanda's workshop, whwere he learned the art of batik.  
In 1970 he attended Jimoh Buraimoh's Art workshop, where he worked under Buraimoh and became a painter and mosaic artist.  In 1973 he moved to Zaria.  He  was discovered by Mr. Ademola Williams, who brought him to the attention of the Zamaru Art workshop, organized by the Fine Art Department at Ahmadu Bello University, and directed by Dr. Wangboje.  He started printing and studied the technique of ink and oil painting for which he is known.  
He participated in group exhibitions at the British Council in Kaduna.  In 1975 he exhibited at the Commonwealth Art Gallery in London, and subsequently exhibited elsewhere in West Africa, Europe and the United States (where he now lives).  Oluwafemi Babarinlo is a member of the Society of Nigerian Artists and the Osun State Art Council.