About the Artist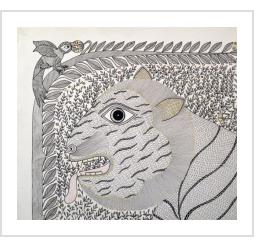 Pradyumna Kumar is an award-winning artist, the first Indian to ever win the prestigious UNESCO Noma Concours in Japan in 2006. For most of his professional life, he was a land surveyor till a surgery cost him his job. He then took to art, creating paintings influenced by Madhubani stylistic traditions but with themes and topics of his own imagination and interest. 
Works by Pradyumna Kumar are in the permanent collection at National Museums, Liverpool, UK, the Mingei International Folk Art Museum, San Diego, USA and QAGOMA, Brisbane, Australia. He is the author/illustrator of two books- How The Firefly Got Is Light and Durva's Bamboo Forest. (Bio courtesy of mojarto)
Time for Celebrations: Indian artist wins 15th NOMA CONCOURS (2006) 
By Minhazz Majumdar
Pradyumna Kumar is the first Indian artist ever to win the Grand Prize at the prestigious 15th NOMA Concours for Picture Book Illustrations.
His entry " How the Firefly Got Its Light " a series inspired by Mithila paintings was selected as the best amongst 522 entries from 48 countries, no mean achievement for an artist who entered a competition for the first time. 
What makes Pradyumna's win more impressive is that he only took to art about 5 years ago after a surgery reduced chances of him continuing with his job as a land surveyor. Totally self-taught, he has been influenced by his wife Mala Karn and his sister-in-law Pushpa Kumari, who are amongst the finest contemporary artists in the Mithila tradition. Mithila painting, also known as Madhubani art is typical of the Mithila region of Bihar, North India and are a vital part of the cultural traditions of the area. Traditionally, women drew these ceremonial paintings on walls and floors, depicting religious and social themes. These paintings were means of visual education, a way of passing down stories, myths and social values from one generation to another. The marriage chamber or kobhar ghar is where the most elaborate paintings are done on the walls to seek divine blessings for the newly married couple. A severe drought in the region in 1966-67 heralded the transformation of this art – the government in an attempt to generate employment and income, started encouraging the women to paint on paper.
For Pradyumna, entering the competition, that too an international one, was no easy task. What took time was not the actual process of painting but conceptualizing a story that firstly, could be universally understood and secondly, lend itself to easy visual expression. As someone who has worked closely with him since he became an artist, I was his sounding board as far as the competition was concerned and was to translate his story from Hindi to English. We both agreed that doing a complex work with esoteric symbolism and complicated story line was a no-no. Rather the illustrations and the story should be such that people, no matter where they come from, can easily understand the visuals and the story. So began Pradyumna's search for a suitable story –he read the scriptures and examined literary sources, looking for inspiration everywhere. Finally, he came up with a story that combined tales heard on his grandmother's lap as a child and his own deep concerns regarding the lack of harmony in human lives and environmental degradation. He wrote a story about a tiny firefly pondering over its insignificance and witnessing the gradual distancing between trees and humankind. She observes the disciplined life ants lead, the work of the busy bees and finally joins other animals and humans in putting out a forest fire. Finally, she asks the Sun for some light and at night, dispels darkness and fear with the light in her body. 
Working over 3 months Pradyumna completed 5 panels, each panel a testimony both to his individual artistic skill and to the Mithila Art tradition that he drinks deep from. Pradyumna sent off his entry with the satisfaction of having completed the five paintings as part of a cohesive series, little knowing what lay in store for him.