About the Artist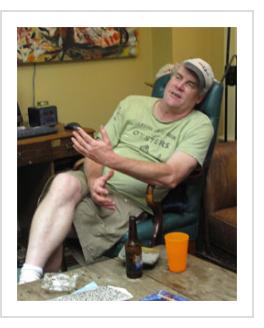 Biography - Shawn Crookshank
Born in 1958 in Pulaski, Virginia, Shawn Crookshank grew up in and around the town of Abingdon. He studied art at Virginia Intermont College in Bristol, Virginia, graduating in 1983. A trip to Mexico in 1984 inspired his first formal exhibit, at the William King Arts Center in Abingdon.
Shawn is known for his intense calligraphic style of figures in collision, exemplified by his painting "Redneck Jones". A chef as well as an artist, Shawn Crookshank founded the Starving Artist Cafe in Abingdon in 1985. Through its program of monthly art exhibits, the Starving Artist was the center of the art scene in this southwest Virginia town for 23 years, until it's recent closing. Many local artists credit Shawn and the Starving Artist for giving them their first public showings.
Shawn's prolific output of signature "Jones paintings" coincided with running the gallery and restaurant and an active party life. The chattering Jones figures can thus be seen as a reflection of Shawn's frantic world. Jones also evokes the iconic Southern "haint" or ghost figure. In the view of D.R. Mullins, who worked with him at the Starving Artist, Shawn is haunted by many such demons.
In 2009 Crookshank was featured, (alongside fellow artists D.R. Mullins and Richard Houser) in the exhibit, "Pillars of Bohemia", at the William King Museum in Abingdon, Va. (June 26 - Oct. 11, 2009). Museum curator Adam Justice wrote:
Shawn Crookshank is as much a presence as he is a painter. It is no surprise that his paintings echo this fact by usually being quite large and unrelentingly teeming with surface detail. They appear to claim a lineage from some primordial form of chaos theory; they seem to be covered with a precise system of quick marks that collectively impose a stunning paradox of order and disarray, but are never accidental...
He is the unpretentious painting savage.