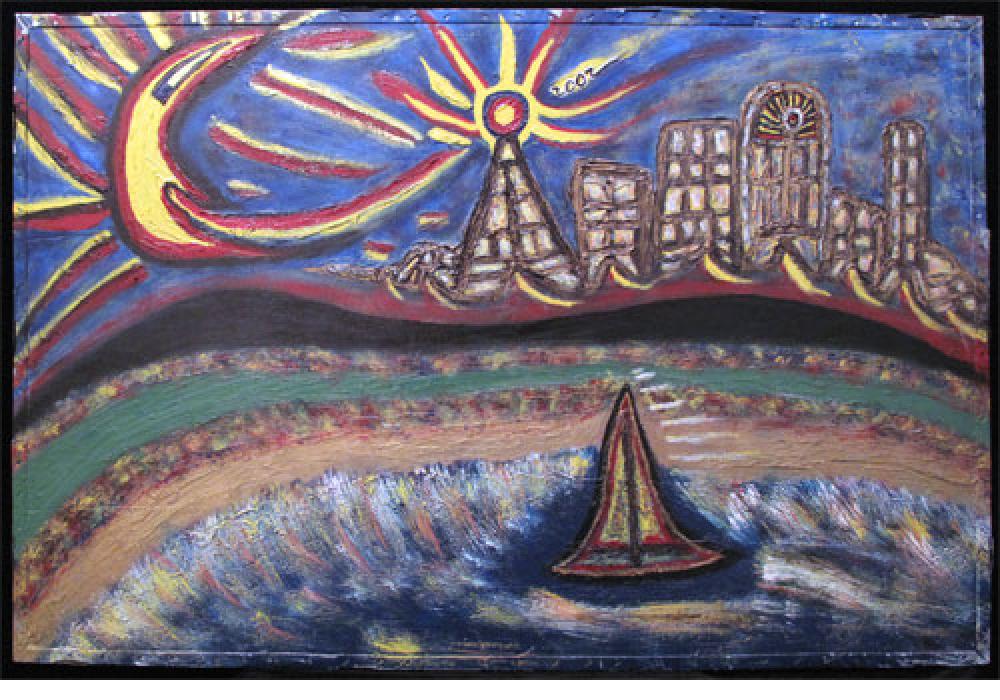 September 15, 2011

to

November 5, 2011
Appalachian Visionaries introduces the work of a powerful group of visionary artists from the Appalachian region of southwestern Virginia. The exhibit includes paintings, sculpture and mixed media work by Ollie Cox, paintings by Shawn Crookshank and paintings and wood sculpture by D.R. Mullins, and the late intuitive master, Fred J. Carter (1911-1992). While the four artists differ in style and biography they are connected by geography and intersecting experiences. The artists have exhibited in regional museum and gallery shows, but have not exhibited widely outside of the area. As with most visionaries, their life stories inform their work and can be as incredible as their art.
Fred Carter was a self-taught genius, the master of what scholar Jack Wright calls "Appalachian Art Brut". He began his serious artistic work in his fifties when he retired from running his hardware store in the coal town of Clintwood, Virginia. He could have rested on his laurels as a respected businessman and a skilled Appalachian wood-carver and stonemason. But he chose a more risky path. Carter had a vision, which he followed obsessively until his death in 1992. He was a renaissance man, who expressed himself in poetry, philosophy, painting, stone masonry, landscape architecture, storytelling, and most impressively, sculpture in wood. Unlike self-taught artists whose obsessions are intensely personal and even bizarre, emanating from religious visions or fantasy worlds, Fred's work reflected a social conscience born of his experience. He grew up with a veneration for nature, tempered by depression-era progressive ideals. He was deeply affected by the bloody battle between the coal companies and the miner's unions that swirled around him (the most notorious was in Harlan county, just over the Kentucky line). He developed a prescient view of technology's destructive side, notably the ravages of coal mining on miners and nature.
In Clintwood Carter founded and built the Cumberland Museum, a large collection of pioneer tools and artifacts, with exhibits on Appalachian culture and history and an art gallery. He also established an annual festival called Pioneer Days. But the conservative town could not face Fred's depictions of black-lunged miners and poisonous coal waste - realities they tried to ignore. Nor were his portrayals of Indians, Iraqi war refugees, and such figures as Martin Luther King and Vladimir Lenin well received. Fred's was a lonely voice, but he persisted, producing a body of work that is emotionally touching and often breathtaking in scope. His sculptural masterpiece, "The Final Battle" depicts a 10 foot tall, anguished, old testament figure on one side of a huge piece of wood. The reverse shows the figure morphed into a horrific skeleton, defeated by the technological forces Fred saw destroying Clintwood and the wider world.
Since his death in 1992 he has been honored by several retrospective exhibits, most notably Unrecognized Artists at the William King Regional Arts Center in Abingdon in 1997, and Fred Carter Retrospective: A Primitive Visionary's World View, curated by DR Mullins for the 1912 Gallery at Emory and Henry College., Emory, Virginia, in 2000. Had his work been more widely viewed, Carter might be recognized today as one of the great American self-taught artists.
In the fall of 2013 the American Visionary Art Museum in Baltimore, Md., devoted an entire gallery to Fred Carter's work as part of their year-long thematic exhibit, Human, Soul & Machine: The Coming Singularity!. The work of Fred Carter is featured in the Summer 2014 issue of Raw Vision magazine with the article Appalachian Prophet by Len Davidson.
Shawn Crookshank and DR Mullins are both trained artists, though their work is anything but academic. D.R., a star football player recruited by the University of North Carolina, injured his knee freshman year. His athletic career over, he studied art and psychology. After graduation, he returned home to Clintwood, Va., where he opened a gallery. His unusual paintings were not well received in coal country, but he met the much older Fred Carter, who became his friend and mentor. D. R.'s art does not show a stylistic influence from Carter, but Fred's philosophy and independence gave D.R. the confidence to follow his own eccentric vision. D.R. is a master of many styles, who often depicts fantastical images of humans transforming into nature. He has distinguished himself as a muralist. His most recent work is a commission for the entrance to the new Heartwood cultural/art center in Abingdon, Va.
Shawn attended Virginia Intermont College in Bristol, Virginia. Shawn is known for his intense calligraphic style of figures in collision, exemplified by his painting "Redneck Jones". Shawn is also a skilled chef who opened the Starving Artist Cafe, a restaurant and gallery in the mid-eighties. The Starving Artist was the artistic center of Abingdon for 23 years, showing new exhibits monthly. Shawn's prolific output of signature "Jones paintings" coincided with running the gallery and restaurant and an active party life. The chattering Jones figures can thus be seen as a reflection of Shawn's frantic world. Jones also evokes the iconic Southern "haint" or ghost figure. In the view of D.R. who worked with him at the Starving Artist, Shawn is haunted by many such demons. In 2009 both artists were featured in the exhibit, Pillars of Bohemia, at the William King Museum in Abingdon.
Born to one of the few African American families in Abingdon, Virginia, Ollie Cox got an education and got out of town. After graduating from Johnson C. Smith College in Durham, NC, he worked in a series of "corporate jobs", but quit in his 40's for a lusher life on the west coast. But family medical issues called him back to Abingdon a decade ago. He remained alienated by the town of his birth, but was befriended by Shawn and D.R., who serendipitously put some paint and cardboard in front of him. An outsider artist was born, and soon Ollie's house was covered in exotic creations. An inveterate dumpster diver, Ollie painted on radiators, card racks, stage-sets, whatever, painting visions of a world somewhere between San Francisco and the cosmos. In 2007 his work was recognized with Inside the Outsider, an exhibition at the William King Regional Arts Center.
Appalachian Visionaries is presented with the assistance of Philadelphia outsider art scholar and writer Len Davidson, who is currently researching these artists. Works by the late Fred Carter are exhibited thanks to the courtesy of his family and the invaluable assistance of D.R. Mullins. Click here for a Philadelphia Inquirer review of the exhibit.