About the Artist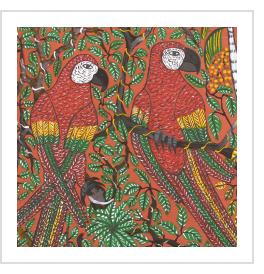 Shoyan Sheca is an artist of the Shipibo/Conibo people who live in the selva (jungle) of Peru.
I was born in the community of San Francisco.   When my grandfather died I came to Pucallpa. At school I liked math.  There I fell in love with Elena. After we got married I had to work as a kitchen helper in the day, and at night I went to school.  After I came to Lima I began to paint...
When I paint my animals I think as a kid.  I liked to follow my grandfather to seek mitayo (bush meat). I remember, when a herd of peccaries came and made me run and climb a tree. When I draw a flying heron, I love that. 
For me painting is a struggle. Lima also is a struggle. As I am a father of four children and I want my children, I have to struggle to study. Joblessness is very difficult, but now I feel more that I'm moving forward.