About the Artist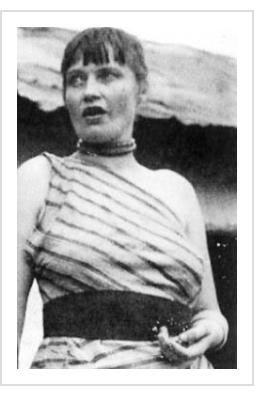 1915 - 2009
A towering figure in the history of contemporary African art, Austrian-born Susanne Wenger died in 2009 at age 93. Arriving in Nigeria in 1949 with her husband Ulii Beier, she quickly became an integral part of the art scene as the country emerged from colonialism. She and Beier were key to the formation of the art workshops in Oshogbo, fostering the "Oshogbo Movement" which brought to prominence such key figures as Twins Seven-Seven, Asiru Olatunde, Rufus Ogundele, Muraina Oyelami, Jimoh Buraimoh and others.
Susanne Wenger was born in Graz, Austria. She studied art there and later in Vienna at the Academy of Fine Arts. In 1947 she co-founded the Vienna Art-Club. After living in Switzerland and Italy she moved to Paris in 1949 where she met the German linguist, Ulli Beier. Shortly after they married and moved to Ibadan, Nigeria, where he was to take up a post as a phonetician. In 1950 Wenger and her husband moved from Ibadan to nearby Ede. After becoming ill with tuberculosis, she turned to Yoruba religion and later became a Yoruba priestess. Wenger had initially been attracted to the religion after meeting one of the remaining priests of the Olorisha religion and quickly becoming engrossed in his life and rituals. During this period she and Beier mentored a group of local artists that were to become the New Sacred Art Movement. Wenger and Beier eventually divorced and in 1959 she married a local drummer Ayansola Oniru. She went on to adopt more than a dozen Yoruba children. Wenger become the guardian of the Sacred Grove of Osun goddess on the banks of the Osun river in Oshogbo and as her influence increased, the grove became a focal point for artists and those that celebrated Yoruba. The festival to worship the goddess Osun that takes place every August continues to attract thousands of visitors today. In 2005 UNESCO listed the grove as a world heritage site and in that same year, Wenger was made a member of Nigeria's federal republic. Wenger died in Osogbo in 2009. (bio. courtesy of Rosebery's London, 2015)
Suzanne Wenger
Austrian-born Artist and Priestess of the Yoruba Religion
Keith Richards
The Guardian
Wed 25 Mar 2009
Suzanne Wenger, the Austrian-born artist and Yoruban priestess, who has died at the age of 93 in her adopted home of Osogbo in Nigeria, was unique in her absorption into traditional African religion. After her arrival in Africa in 1949, she worked hard to revive Yoruba among Nigerians who had drifted away from it under the influence of western culture and religion. She also made enormous efforts to protect the sacred grove of Osun, a forest along the banks of the Oshun river just outside Osogbo, which she turned into a sculpture garden filled with art made by her and others.
The simple message, distributed by one of her fellow artists, Chief Muraina Oyelami, that "our beloved colleague, mentor and Adunni Olorisha, responded to the call of Olodumare (God) some hours ago", belied a life of rich cultural complexity and courage.
Born in Graz, Austria, she studied art there and in Vienna before travelling to Paris in 1949, where she met Ulli Beier, a German linguist. When he was offered a position as a phonetician in Ibadan, Nigeria, shortly afterwards, they decided to marry so she could accompany him. At the wedding at a registry office in London, they presented the registrar with a selection of curtain rings. When he observed: "A wedding is not a silly joke," they replied: "How do you know?"
The couple quickly assimilated in Nigeria, he as a teacher and she as an artist, but they moved from Ibadan to the nearby town of Ede in 1950 to escape what Wenger called the "artificial university compound". In Ede, she met one of the last priests of the rapidly disappearing, ancestral-based Olorisha religion. She quickly became engrossed in his life and rituals, even though at that time she spoke no Yoruba. "Our only intercourse was the language of the trees," she said later. 
During this period, she and Beier mentored a group of local artists that later became the New Sacred Art movement, creating many of the giant sculptural works that beautify the sacred grove.
When Wenger and Beier eventually separated, she remained in Osogbo to continue her work and became even more immersed in her training as a priestess. In 1959 she married a local drummer, Chief Alarape, and adopted more than a dozen Yoruba children, including the artist Nike Davies-Okundaye.
As her influence increased, the grove became a focal point for artists and those that celebrated Yoruba. The festival held to worship the goddess Osun that takes place at the grove every August continues to attract thousands today. But it also became a target for criticism from Christian and Muslim fundamentalists, whose position Wenger always rejected, saying there was little about Christianity and Yoruba that could not be reconciled. "Orisa [a spirit or deity] is merely a name which represents the supernatural forces which are basic expressions of life," she said. "It doesn't matter what you call it. It is a sacred force that represents the experience of life that informs human beingness." 
In 2005, her efforts to protect the grove were rewarded by Unesco's decision to list it as a world heritage site. She was honoured in Nigeria in the same year by being made a member of the federal republic. Wenger's bougainvillea-covered Osogbo house became a pilgrimage site to many, despite her insistence that her life was one of devotion to the spirit and not of tourism. When I visited her with my son Tom, just a few weeks before her death, I asked her: "Mama, are you still working?" She responded: "No, but I am still dreaming."
• Suzanne Wenger, artist and Yoruban priestess, born 4 July 1915; died 12 January 2009