About the Artist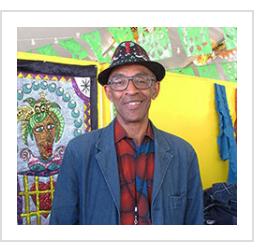 William Adjété Wilson is a French-Togolese artist who lives in France and Benin.  His work is inspired by the traditions and techniques of Africa and the diaspora.  As evident in this body of work he collaborates with artists all over the world in this case Haitian drapo artist Valentin Valris.  
As described in the exhibition catalog And Endlessly, I Create Myself:  William-Adjété Wilson and the Black Ocean, Wilson's work "imaginatively refashions classic techniques and materials used by African artisans."
"Born in France in 1952, Wilson had little knowledge of his Togolese father's family until he traveled through the Gulf of Guinea as a young man.  Though trained as a philosopher and anthropologist, this journey inspired him to pursue an artistic practice.  His work has been shown throughout Africa, Europe, the US and Brazil."
"Wilson's intellectiual interests continue to inform his creative work, which both celebrates and interrogates the often untold stories of the African continent.  The Black Ocean, a collaboration between Wilson and a workshop of artisans in the Republic of Benin, is a series of powerful applique textiles which bear witness to the richness of West African cultures and the complex histories that weave together people of Africa, Europe and the Americas.  Through this important work, Wilson places himself intellectually and spiritually in conversation with his Europeans and African ancestors."
From And Endlessly, I Create Myself:  William-Adjété Wilson and the Black Ocean, Gallery DAAS, University of Michigan, 2014