About the Artist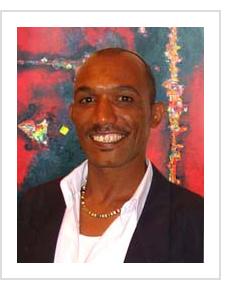 Sudanese-born artist Yassir Ali Mohammed was born in Kasala, East Sudan in 1969.  He trained in Khartoum and now lives and works in Nairobi, Kenya. His practice is deeply engaged with the notion of a Sudanese visual identity. He explores the trajectory of ancient Nubian symbols from historical to contemporary visual culture, inspired by the universality of their shapes and formations, and how they have developed through time and across cultures.
Ali graduated with a Degree in Fine Art from the Sudan University of Science and Technology in 1997. He has held solo exhibitions in Kenya, Tanzania and Sudan.  He has worked  out of a studio at the Kuona Trust Art Centre in Nairobi.   Yassir is involved in many projects for Sudanese children like for Nafage Art Workshop Abd elKarim Mirghani Cultural Center (AKMCC) in Sudan since 1998 and he is also responsible for promoting manual work of displaced poor and school left out children since 2000 for organization called Children's Culture of AKMCC.  He is also member of the Almada Art Group and the Union for Sudanese Artists.
Participated in International Forest workshops at Ongonge Forest – Nairobi. Kenya 2006 and 2007. 
Participated in President of artist over the frontiers. Lyon- France. 2009. 
Participated in ARS 11 Exhibition at Kouvola. Finland. 2011 
Participated in Spherique Indian Ocean Art project- Zanzibar 2011.
He was selected to exhibit in the Kampala Art Biennale, 2014. 
He was a guest of South Korea where he held a two artist exhibition earlier in 2014.
He participated in group shows in Finland, Uganda, South Korea, the United States and France.