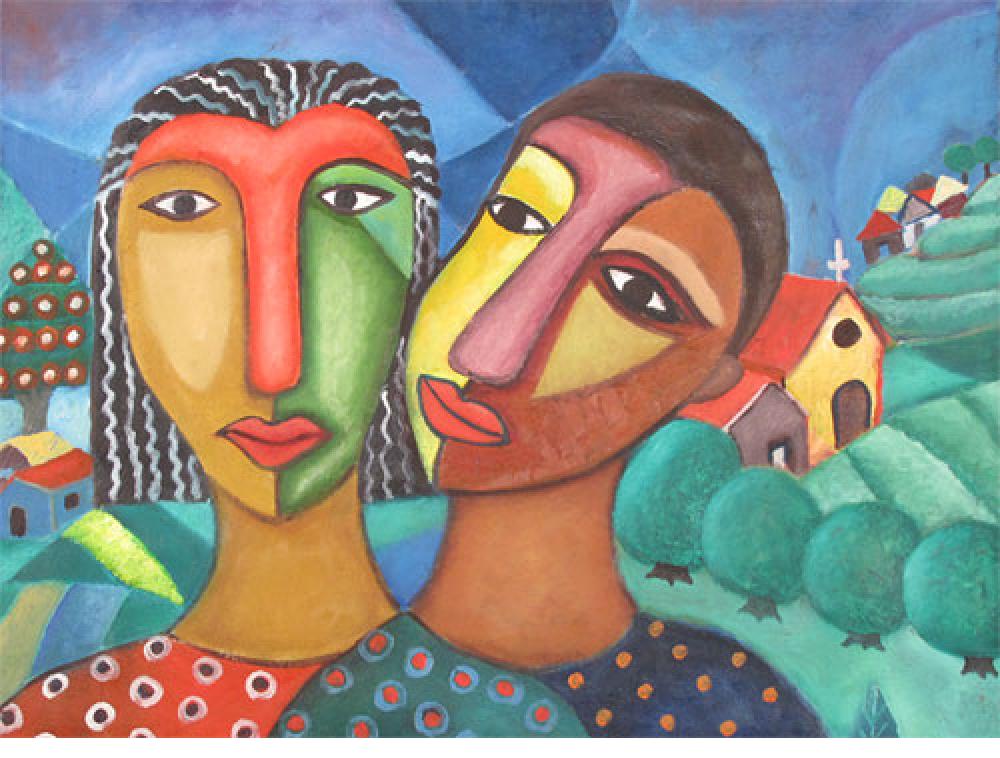 March 10, 2012

to

September 29, 2012
Indigo Arts presents an introduction to the varied contemporary artwork of East Africa. The exhibition includes paintings and sculpture by Kenyan artists Kamau "Cartoon" Joseph, Dickson Kaloki, Shade Kamau, John Kamicha, Kevin Kariuki, Patrick Kayako, Kivuthi Mbuno, James Mbuthia, Yassir Ali Mohammed, the late George Thairu and Sane Wadu. Artists from Tanzania include the late, celebrated George Lilanga as well as the finest Tinga Tinga painters - Omary Amonde, Mohamed Charinda, Jafari Mimus, Said Mkumba and the late Sayuki Matindiko.
East African Encounters is a personal selection from the wide range of art in East Africa. The artists chosen are largely self-taught, omitting many talented trained artists, who take their inspiration as much from the international art world as from local tradition. The work is primarily two-dimensional, though there is certainly no lack of good sculpture in East Africa. Most of the work comes from two important centers – Nairobi in Kenya, and Dar es Salaam in coastal Tanzania. Though there are a few works from Sudan, mostly by artists residing in Nairobi, the work from Uganda, Rwanda and other neighboring countries awaits a future show.
Contemporary Kenyan art draws on a workshop movement analogous to the better known Centre d'Art in Haiti in the 1940's, the Oshogbo workshops in newly independent Nigeria (from which Twins Seven-Seven and others emerged) and the Central African Workshop School in Southern Rhodesia, which gave rise to the Shona stone sculpture movement. The Paa-ya-Paa Art Center opened in Nairobi in 1965, two years after Kenyan independence. Other centers followed, such as the Kuona Trust Art Studio, Banana Hill Art Studio, Ngecha Artist Association and more recently the Godown Arts Center. Many of Kenya's leading artists, such as Sane Wadu and Kivuthi Mbuno, worked at these centers and first exhibiteded commercially at the ground-breaking Gallery Watatu, founded in Nairobi in 1969.
"Sane" Mbugua Wadu was a primary school teacher who appeared at Gallery Watatu "wearing an improbable canvas suit he had painted himself and carrying shopping bags containing rolled up pictures" showing his wry view of Kenyan life. His friends called him insane, but when he had his first successful show at Watatu he responded by giving himself the nomme de guerre "Sane". Kivuthi Mbuno was a game tracker from rural Makueni district who settled in Langata near old failed coffee farm Karen Blixen (Isak Dineson). He worked for the American photographer Peter Beard, among others and was clearly influenced by the drawings of Blixen's old cook, Kamante Gatura. His surreal colored pencil drawings depict the rural tribal world of his childhood.
Kamau "Cartoon" Joseph was born in 1973 in Ngecha, outside of Nairobi. He first painted at the nearby Banana Hill Studio, and subsequently exhibited at Watatu and internationally. Historian Sidney Kasfir (in Contemporary African Art, 1999) describes him as an artist whose work "possesses an exuberance which is extremely difficult for formally trained artists to achieve." James Mbuthia was born in Banana Hill in 1958 and taught himself to paint amid the "extraordinary concentration of artists" residing in that village. He has exhibited at both the art centers and established galleries, as well as in the US and abroad. John Kamicha grew up in the studio of his father, the painter Zachariah Mbuthia. But he swerved from that influence, layering his collage-like oils of village and wildlife on top of the ubiquitous, brightly patterned kanga cloths. Kevin Kariuki is a very creative sculptor who makes butterflies, beetles and other bugs from recycled tin cans and bottlecaps. Many artists from neighboring countries were also drawn to Nairobi, including the late artist George Thairu and the Sudanese-born artist Yassir Ali Mohammed, who works at the Kuona Trust Studio.
The work from Tanzania is quite different in both style and in motivation. While Nairobi is clearly the artistic as well as economic center of East Africa, Tanzania can lay claim to the intertwined legacies of Edward Saidi Tingatinga and George Lilanga. Their legacy while artistically uneven, is world renowned and economically more significant than any work in Kenya. E. S. Tingatinga was born in 1932 to a family of subsistence farmers in southern Tanganyika. In 1953 he migrated to Dar es Salaam in search of work. Working in construction and various odd jobs, he admired the itinerant artists from the Congo, whose simple "jungle" paintings were snapped up by European tourists. In an effort to replicate their success, he scavenged materials – high-gloss bicycle enamel and masonite "ceiling board" – and in 1968 invented the "Tinga Tinga" painting. Working nights as a ward attendant at Muhimbili Hospital, he painted during the day and sold the paintings to expatriates outside the Oyster Bay post office. His elegantly simple paintings of wild animals, birds and village scenes were naïve, charming and sold quickly. Others were inspired by his success, and he agreed to take on five apprentices, mostly members of his family or his mother's Makua tribe. The first international show of these "Tanzanian Folk Paintings" in London was already scheduled for December 1972. But Edward Saidi Tingatinga was shot dead by the Dar es Salaam police one night in May 1972, supposedly a case of mistaken identity.
Though his painting career spanned only four years, E. S. Tingatinga launched a painting industry in Tanzania. Many other painters took up painting after his death, and in 1977 they formed a collective called the Tingatinga Partnership, which continues today as the Tingatinga Arts Cooperative Society. This exhibit includes work by the oldest member of the group, Tingatinga's cousin Omary Amonde, who began to paint only a month before the master's death. Other notable artists include Mohamed Charinda, whose work is characterized by scenes of Makua traditions and village life. His work was featured in the continental survey Angaza Africa: African Art Now, by Chris Spring. Said Mkumba (b. 1963) has mastered both the stylized animal paintings of the master and a more humorous chronicling of contemporary Tanzanian life. Others, such as Issa Said Mitole (b. 1981), have turned to a "cartoon" comic-strip style typified by his painting satirizing the chaos of Muhimbili Hospital (where E. S. Tingatinga both worked and died). At its best, as in the work of Tingatinga and the first generation of his followers, Tinga Tinga painting ranks with the best naïve art. His paintings now sell for thousands of times what he charged to tourists in 1978. At its worst the art is derivative, commercial and often dismissed as airport art.
George Lilanga (1934 - 2005) was the best-known Tanzanian contemporary artist, and one of the most celebrated artists on the continent. He was not a Tinga Tinga artist, but worked alongside them in Dar es Salaam and adopted some of their techniques in his work. Lilanga was a member of the Makonde tribe from southern Tanzania and Mozambique who became renowned in the 1960's for their wildly fantastic ebony "shetani" (devil) sculptures. Lilanga began carving ebony in a refugee camp on the border with Mozambique. In 1971 he followed his uncle to Dar es Salaam, and an art center called Nyumba na Sanaa (House of Art). He established his own style distinct from the other Makonde artists, when he first painted his sculptures in bright colors, using the same glossy bicycle enamels as the Tinga Tinga artists. He went on to transplant his figures to two dimensions, painting in the same bright enamels, and even to etchings and lithographs. His universe of impish "shetani" spirits is lively, humorous and instantly recognizable. It became as much a trademark as the graffiti-inspired figures of Keith Haring (to whom he was often compared). Lilanga established his own workshop and lived to become a superstar in African art, exhibiting internationally until his death in 2005. Like E.S. Tingatinga, he spawned a school followers, many his kin. One artist who bridged the Lilanga and Tingatinga universes in a very creative way was Sayuki Matindiko (1963 – 2011). His canvases depicted Tanzanian village life but in the multicolor palette of Lilanga.