About the Artist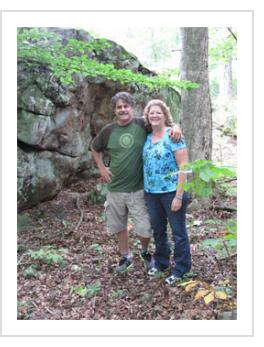 Biography - D. R. Mullins
Born in 1958 in Alexandria, Virginia.
D.R. Mullins grew up in the coal-mining town of Clintwood, Virginia. His grandfather and many of his relatives were coal miners, but D.R. spent enough summers working in the mines to know he didn't want to follow their path. D.R.' s father was a high school teacher, coach and administrator. For a number of years the family lived in Alexandria and Fairfax, in northern Virginia.
When D.R. was twelve they returned to Clintwood, in the far southwest corner of the state, near the Kentucky line (also known as the hometown of Ralph Stanley). His father taught and coached high school, and D.R. "played every sport that had a ball". A star athlete, he won a full scholarship to the University of North Carolina. "I quickly realized I was the only hillbilly there." he recalled, and he really didn't fit in. After a freshman year knee injury derailed his football career he struggled academically at first. Fortunately he was drawn to study psychology and art, which opened up a new path for him. "Not many jocks turn into artists," he observes.
D.R. returned to Clintwood in 1982 to renovate an old building and open an art studio and gallery. He gave art classes and exhibited his own and other artists' work. His work was not too well received in the conservative coal town and after a few years he "wore out (his) market". But the gallery venture led to his reacquainting himself with the aging eccentric folk artist Fred J. Carter. D.R. had met Fred in Clintwood when he was a child, but meeting him again as a grown artist was pivotal in his career. Fred became a good friend and a mentor to him. "I was almost ready to pull back [from art] if not for Fred."
Fred's "no holds barred" attitude to art, and their daily conversations on philosophy, politics and life inspired D.R. to accept that, "I'm not so weird after all." He developed an artistic process based on free experimentation, generally starting a painting with little or no idea in mind, but allowing the work to develop as it may.
After Fred's death in 1992, D.R. was able to repay some of his debt to him, by curating the exhibit, "Fred Carter Retrospective: A Primitive Visionary's World View" at Emory and Henry College (July 29 to September 17, 2000). He has continued to promote Fred Carter's legacy in various venues since then.
D.R. is also a musician. It was while playing in nearby Wise, Virginia that he met his wife Robin, a fellow artist and musician, as well as actress. In 1985 they moved to the town of Abingdon, Virginia to start over together. In Abingdon D.R. befriended another young artist (and talented chef), Shawn Crookshank, who had recently opened a restaurant called the Starving Artist. D.R. washed dishes, worked up to cook and manager, and all the while showed his artwork in the restaurant's monthly art exhibits. For 23 years, until it closed in 2009, the Starving Artist and its First Monday art openings were at the center of the art scene in Abingdon.
During 33 years of painting, D.R. Mullins' work has followed a creative and varied path. During lean times, D.R. supported himself building stage sets at the Barter Theater in Abingdon, designing plush toys for arcade crane machines, and other jobs. Using Styrofoam in Barter stage sets led to a series of carved and painted foam sculptures. His 20 year study of Buddhism is evident in the symmetry of some of his most surreal work—colorful, striking paintings that morph from people to trees to arrows to eyes to plants and more.
"My work is self expression and self examination," but his career has often been a struggle. In recent years, his struggles have been rewarded as he has been featured at major art exhibits and commissions. In 2009 he was one of three artists featured in the exhibit "Pillars of Bohemia", at the William King Museum in Abingdon, VA. D.R. Mullins has also made a reputation as a muralist, specializing in depictions of Appalachian culture and what he calls "topographical landscapes". Among his commissions have been murals for the Virginia Gas Co., the Southwest Virginia Higher Education Center in Abingdon, the Virginia Highlands Community College and the Bristol (Virginia) Public Library. He recently completed a major mural commission for the entrance to the new Heartwood cultural/art center in Abingdon.
(Biographical information above is courtesy of an unpublished manuscript by Len Davidson, and an article by Jack Wright, "Appalachian Art Brut: Reflections on the Life Works of Fred J. Carter" (Appalachian Journal, Fall 2001/Winter 2002), as well as conversations with the artist.)
In 2009 D.R. Mullins was featured, (alongside fellow artists Shawn Crookshank and Richard Houser) in the exhibit, "Pillars of Bohemia", at the William King Museum in Abingdon, Va. (June 26 - Oct. 11, 2009). Museum curator Adam Justice wrote:
D. R. Mullins is a visionary armed with a paint brush and the third eye of enlightenment....
His paintings are often rooted in ... a specific familiar discourse like legend, history and science. His earlier works are illustrative narratives of brightly colored forms connected by coursing designs. Nature plays a paramount role in these works, signifying Mullins' intent to preserve the ancient belief that nnature is the one true constant... His later paintings are smaller in dimension, less figurative and narrative, and are more defined by the process by which they were created... Technically, the forms are carved into thick sheets of foam according to Mullins' designs and are then gessoed, painted, and modeled to give the illusion of being three-dimensional. Unlike straightforward painting, this is a reductive process, equated more closely with relief sculpture.