About the Artist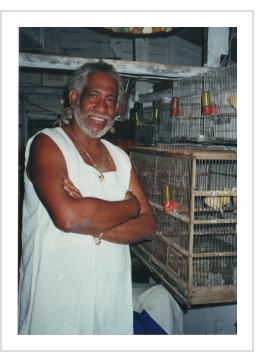 Born - 1944
Biography - Manuel Mendive is the leading Afro-Cuban artist, and quite possibly the leading Cuban artist working today. While he is not in fact a self-taught artist, we include the work of Manuel Mendive in this collection because he is unquestionably a visionary artist, whose work is permeated with the spirits of Afro-Cuban religions which are such an influence on many of the artists in our collection.
Born to a family which practiced Santeria, he received a conventional art education at the Academy of San Alejandro. But in his mature work Mendive returned to his Afro-Cuban roots. As Veerle Poupeye writes, he"turned to popular culture as his formal and conceptual source." An initiate in Santeria and Palo Monte, he "practises what the Cuban critic Gerardo Mosquera has termed 'living mythological thought' and uses Afro-Cuban imagery to examine the questions of contemporary life." In describing his more recent work, Poupeye continues, "his travels to Africa in the early eighties gave new energy and depth to his work and he adopted a more informal idiom that expresses an animist, sexually suggestive vision of nature acted out by hybrid, amorphous figures..."
Exhibitions - Mendive has exhibited at major museums around the world and is included in the leading collections of Cuban art.