I will be out of town from July 11th to 20th.  The gallery will not be open but the website will be working away as usual.  Orders will be shipped after July 20th.  I will be checking email mesages and should be able to repy  to inquiries.
Indigo Arts has moved upstairs to a space on the fourth floor of the Crane Building.  I am still arranging things up here but I am open on a "by appointment or by chance" basis.  I am usually in the building from Wednesday through Saturday from 12 to 6, but it is definitely best to phone or email first. Meanwhile, the Indigo Arts online gallery is operating as usual.  
Please feel free to contact me with any questions in the mean time.
Tony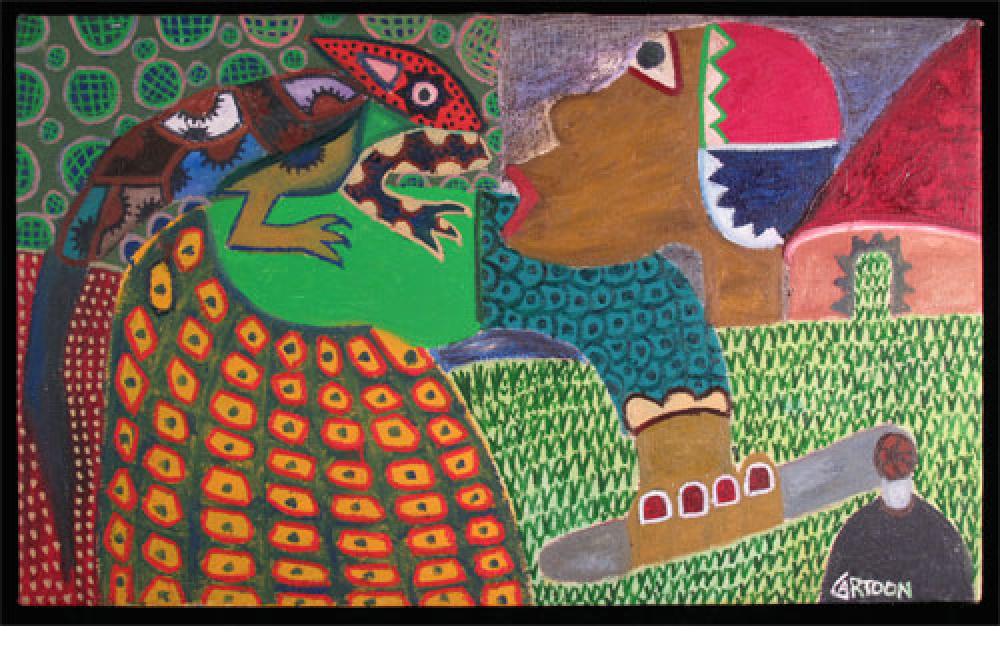 February 14, 2013

to

April 6, 2013
Indigo Arts presents a selection of artwork from African and the African diaspora. The exhibition includes paintings, prints and sculpture by artists from Brazil, Botswana, Cuba, Haiti, Kenya, Nigeria and Tanzania. The exhibit reflects both the diversity of work from the African continent and the rich trans-Atlantic tradition of African descendants in the New World. Featured artists include Xhose Noxo of Botswana, Jose Borges of Brazil, Alejandro Lazo, Manuel Mendive and José Montebravo of Cuba, Gerard, Payas, Prospere Pierre-Louis and Louisiane Saint-Fleurant of Haiti, Cartoon Joseph and George Thairu of Kenya, Yinka Adeyemi and Twins Seven-Seven of Nigeria, and Mohamed Charinda and George Lilanga of Tanzania.