About the Artist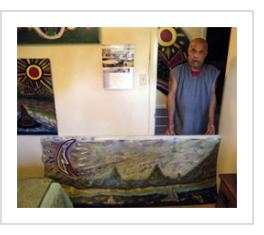 Born in 1948 to one of the few African American families in Abingdon, Virginia, Ollie Cox got an education and got out of town. After graduating from Johnson C. Smith College in Durham, NC he worked in a series of "corporate jobs", which took him to the west coast.
But family medical issues called him back to Abingdon in about 2000. He remained alienated by the town of his birth, but hanging out with younger 'bohemian' artists inspired him to take refuge in art. Working on recycled automobile panels, radiators, window shades, and discarded stage-sets, he painted his personal vision of a world somewhere between San Francisco and the cosmos.
In 2007 Ollie Cox's work was featured in the exhibit, "Inside the Outside", at the William King Regional Arts Center in Abingdon, Va. (April 20 - June 17, 2007). Exhibit curator Roann Barris wrote: "Ollie's work is a riotous explosion, an outburst of color, paint, and pattern".  In the spring of 2011 Ollie Cox returned to the west coast to live.
We were sad to learn recently that Ollie passed away in Santa Fe in 2017.