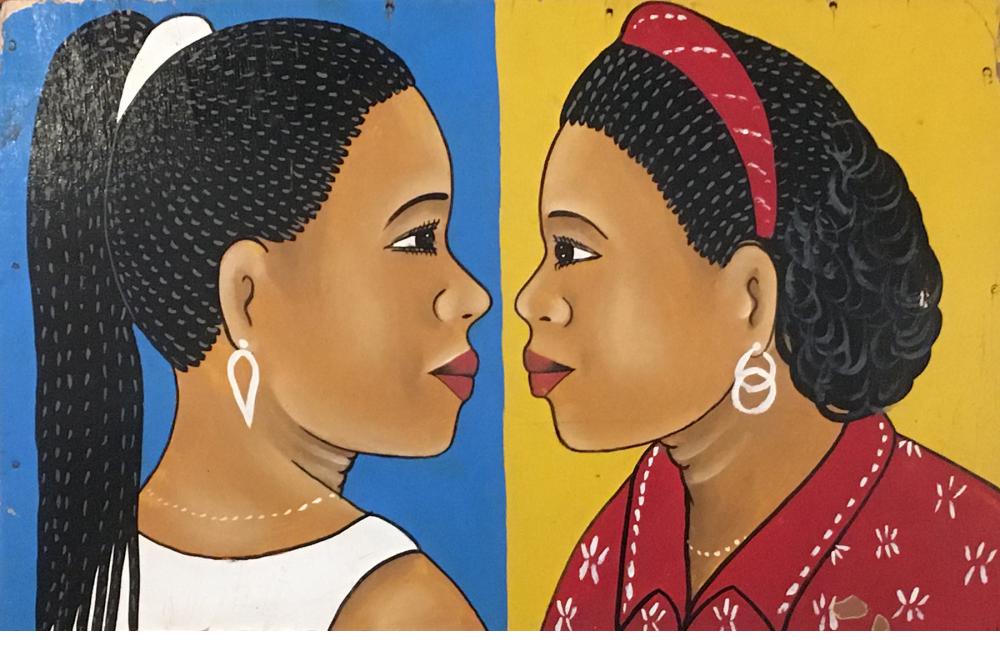 "Bon Coiffure", Coiffure Moderne", "Super Tresse", "Rasta Do", "Ladie's Choice", "Ici Bonne Tresse", "Mervilleuse Tresse Beninoise", "God's Time",  - the names grabbed me as much as the images on the signs which announced the trade of itinerant barbers, braiders and hairdressers in Africa.  Over many years of observing, traveling or living in Africa, I regret that I didn't begin to collect the signs until the founding of Indigo in 1986.  But one of our first shows was a small collection of hair signs from West Africa, mostly from the 70's and 80's.
Indigo Arts has showcased a changing collection of painted signboards ever since -  from Ghana, Mali, Benin, Burkina Faso, Cameroon, Cote d'Ivoire, and Togo. 
Brightly painted in commercial housepaints on plywood or masonite, these signs are a colorful, humorous, and sometimes outrageous contemporary African folk art. They reflect both ancient traditions of hairbraiding and hair-cutting and the cultural clash of imported (usually American) styles.  
In Africa a "barbershop" or "hair salon" may entail nothing more elaborate than a barber or hair-braider with a chair set up in the open and a signboard hanging from a tree or market stall. The signs may be painted by the barbers or hairdressers themselves, or by paid sign artists. They are intended both to identify the businesses and to advertise the services offered, depicting a catalog of intricate women's hairbraiding patterns or the latest in men's hair styles. 
Barbers' signs can often be dated by the hairstyles depicted - today inspired as often as not by events, styles and personalities in the USA.  Some of the earliest signs boast Elvis-inspired pompadours.   Afro-syles gave way to hip-hop cuts.  In the 80's and 90's "Mike Tyson", "Mr. Tee", "House Party", and "Cocaine Cut" were offered alongside such old favorites as "Nelson Mandela", "Back Bush", "Sportin' Waves", "Extra 'O'", "Boeing 707".   The immensely popular "Obama Coiffure" is sorely missed today.
Indigo Arts loaned signs from our collection to African Hair Signs, the 1994 show at Intuit:  The Center for Intuitive and Outsider Art in Chicago.  Several important museum shows have featured African Hair-dresser's signs, including Crowning Achievements: African Arts of Dressing the Hair at the Fowler Museum of Cultural History at UCLA in 1995 and Hair in African Art and Culture at the Museum of African Art in New York in 2000.  Our barber signs were featured in the books African Signs and Barbershop Signs in Africa, as well as Sharne Algotsson's, African Style: Down to the Details.  Currently a collection of our signs are included in the 2020 show at the SFO Museum in San Francisco, Extra 'O' African Barbershop and Hairdressing Signs.  This show has been extended to November 1st, 2020, due to the long pandemic shutdown during its run.  If your travels take you through San Francisco don't miss it!