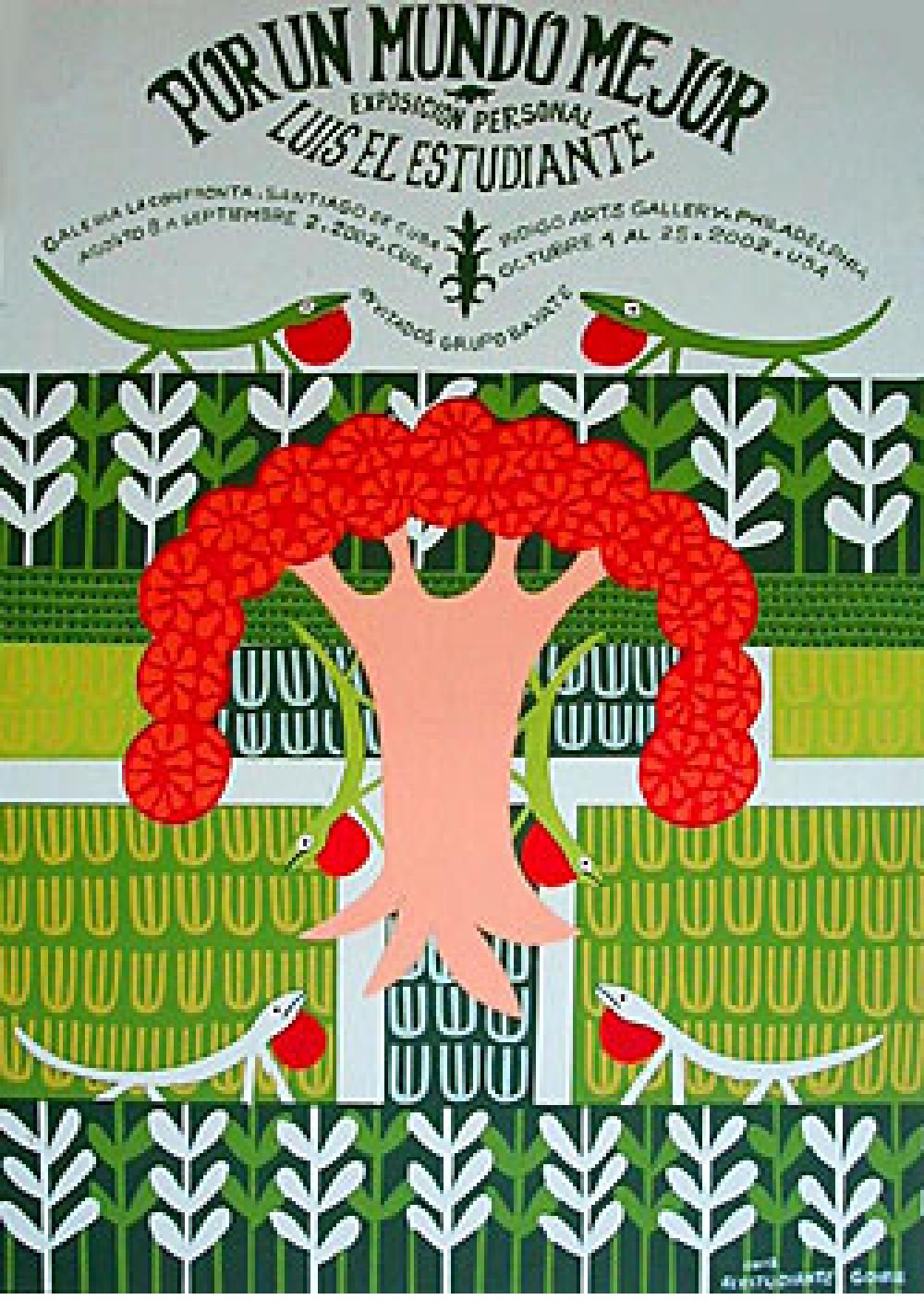 October 4, 2002

to

November 30, 2002
Paintings by Cuba's Grupo Bayate
Celebrating El Festival Cubano 2002
Artists: Roberto Torres Lameda, Luis "El Estudiante" Rodriguez, Luis Joaquin Rodriguez, Luis Alberto Villalon Rades, Richard Bruff Bruff & Angel Llopiz Martinez
Opening Reception: First Friday, October 4, 5:00 to 9:30 PM
Artists Luis "El Estudiante" Rodriguez Ricardo and Roberto Torres Lameda will be present at the reception.
Gallery Talk: Saturday, Oct. 19, 5pm by
Joan C. Pearlman - New School University, New York, with the artists, Luis "El Estudiante" Rodriguez Ricardo and Roberto Torres Lameda
"The spark of appreciation for folk art has been ignited in Mella, a village in the southeastern part of Cuba. There, the Grupo Bayate - eight self-taught artists who have banded together for spiritual and economic support - has discovered that working together fits their needs both as artists and as modern Cubans." Joan Pearlman
Philadelphia, PA - Indigo Arts Gallery is joining in Philadelphia's celebration of El Festival Cubano with Por un Mundo Mejor/For a Better World. This is the the third annual show of the work of self-taught artists from Cuba at Indigo Arts, which has specialized in international ethnographic, folk and contemporary Arts since 1986. This collection showcases the work of the Bayate Group (El Grupo Bayate), a collective of self-taught artists from eastern Cuba. The artists exhibiting are Roberto Torres Lameda, Luis "El Estudiante" Rodriguez, Luis Joaquin Rodriguez Arias, Luis Alberto Villalon Rades, Richard Bruff Bruff, Angel Llopiz Martinez, and Ricardo Felipe Merino.
El Grupo Bayate was founded in 1994 in the village of Mella, an hour outside of Cuba's second city, Santiago de Cuba. As described by art historian Joan Pearlman (in Grupo Bayate: Folk Art in a Cuban Collective , Folk Art Messenger, Fall 1998) above, the artists work individually but band together to survive in the very difiicult economic climate of contemporary Cuba They share art materials, gasoline and frequently exhibition space, as well as ideas and artistic fellowship.
The acknowledged leader of the group is Luis Joaquin Rodriguez Arias (born 1950) who works as a baker. Doubtless the best known member of the collective is his son, Luis Rodriguez Ricardo, who in deference to his "maestro" father, calls himself "El Estudiante". Luis "El Estudiante" has exhibited widely, including solo shows in New York City and Oxford, Mississippi. He was featured in a June, 2000 article in the New York Times,"Ebullient Cubans Make a Lot out of a Little". As the Times noted, "the Grupo paints in a naive, narrative style and takes rural life as its subject. The work of the Rodriguezes is riotously colorful and stacked like a rush-hour train." Luis will be present at the reception at Indigo Arts on October 4th, as well as for other cultural activities in Philadelphia during the week following. Also visiting Indigo Arts will be Roberto Torres Lameda (born 1950), who paints lovely, minutely detailed landscapes and natural scenes. When not painting Lameda works as an electrician and a driver. Other members of the Grupo included in the exhibition are photographer and food vendor Luis Alberto Villalon Rades (born 1950), policeman Angel Llopiz Martinez (born 1963), and Richard Bruff Bruff.
Joan C. Pearlman (New School University, New York) will be giving a gallery talk on the artists of El Grupo Bayate at Indigo Arts on Saturday, October 19th, at 5pm. Artists Luis "El Estudiante" Rodriguez Ricardo and Roberto Torres Lameda will also be available to discuss their work. While in Philadelphia the artists will also appear to discuss their work at the Mainline Art Center at 7:30 pm on October 17th (call 610-525-5036 for further information).
The exhibit and the visit to Philadelphia of the two Cuban artists are sponsored by Moonstone Inc.'s Festival Cubano. Now in its second year, the goals of the festival are:
(1) bring into closer focus the creative and spiritual energy of the Cuban people which will help mainstream Americans break through their stereotypes and prejudices about Cubans and Latinos and acknowledge them as people who share many of their own aspirations and concerns; and, (2) build bridges of communication between diverse Philadelphia arts and cultural organizations and their audiences. For other Festival events, such as the visit of Santiago's famed Ballet Cutumba to Philadelphia, please check: www.elfestivalcubano.comor call 215-222-4550
You can read about Luis, Roberto and El Festival Cubano in a October 14, 2002 article, Cuban Art is Preparing the Stage for Life after the Embargo in the Dallas Morning News.