You Call It Craft, I Call It Art - New York Times Features Artist Leandro Gomez Quintero
by

AFisher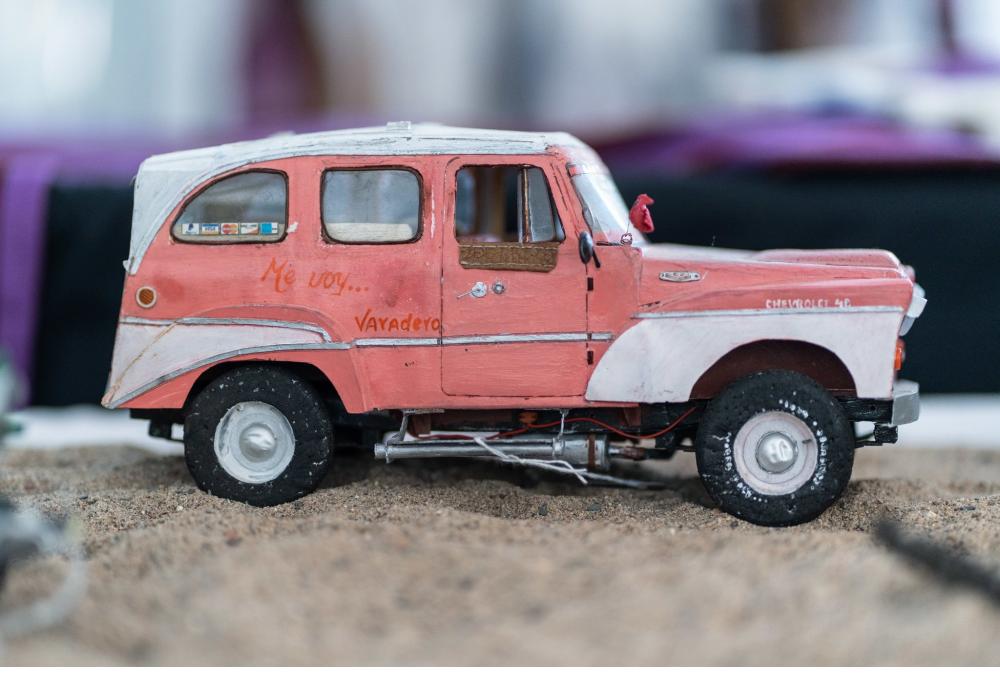 A recent article in the New York Times profiles a variety of the artists exhibiting this last July at the International Folk Art Market in Santa Fe.  The story looked at folk artists from Borneo, Cuba, India, Mexico and Peru.  The first artist introduced was our friend Leandro Gomez Quintero from Baracoa, Cuba:  
Planted in sand on three folding tables were the creations of Leandro Gómez Quintero, one of 178 individuals from 52 countries gathered for the 16th annual edition of the influential and popular International Folk Art Market.
Mr. Gómez's artworks had made the trip to the United States without him since visa restrictions prevented the one-time history teacher based in Baracoa, a small city on the eastern tip of Cuba, from attending. And yet the artist's presence could be felt in the works he'd sent — eccentric and vaguely obsessional scale models of the vintage vehicles that have come to stand as visual shorthand for Cuba's anachronistic position on the global stage.
Politics, history, and the irresistible urge to create from the most meager of resources were all coded into the miniature versions of vehicles such as the once-ubiquitous Jeep CJ, or the customized flatbeds responsible for transporting cattle, lumber and humans along the rutted roads that remain the lifeline of the island nation. Each had been created from refuse and materials Mr. Gómez scavenged: foam core, paper clips, scrap plastic, Duct tape, Styrofoam packing materials, Popsicle sticks and twine.
"For me, this is the essence of folk art," said Stuart Ashman, my guide that afternoon. A former cultural affairs secretary of New Mexico, Mr. Ashman now serves as chief executive officer of a market whose goal is to bring exposure both to practitioners of traditional crafts as well as visionary eccentrics like Mr. Gómez. "It comes out of nowhere, out of nothing," he added. "There's not a tradition for it. It's just some guy saying, 'I want to make this thing."
For the full article follow the link below:
You Call It Craft, I Call It Art
By Guy Trebay
Published Aug. 23, 2019 - New York Times
Weavers, sculptors and visionaries at the International Folk Art Market are liberating traditional definitions of craft as social media debates who can make art. (more...)