About the Artist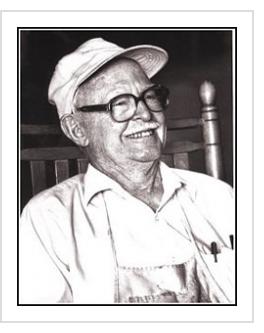 Biography
Born in Duffield, VA., on the North Fork of the Clinch River, in 1911. In 1938 he moved to Clintwood, in the coal fields of far southwestern Virginia, to run his uncle's hardware store.
Fred Carter was the master of what artist, film-maker and writer Jack Wright (see reference below) has called "Appalachian Art Brut". A largely self-taught artist, Fred Carter did not turn to the wood sculpture for which he is known until he was in his fifties.
Carter was a retired Clintwood, Virginia hardware-store owner who could have rested on his laurels as a skilled and respected Appalachian wood-carver and stone-mason. Instead he chose to make trouble for himself by depicting Indians, refugees and historical figures ranging from Martin Luther King to Vladimir Ilyich Lenin in his work. Most notably, in both his sculpture and his paintings, he exposed the ravages of coal mining on both the miners and their environment: "Are you asking me how I felt when they began to tear up our mountains and rape the land and poison our streams and dry up our wells and springs?" (in conversation with writer Jack Wright in 1985, quoted in his article "Appalachian Art Brut: Reflections on the Life Works of Fred J. Carter" - Appalacahian Journal, Fall 2001). His work was his answer.
One of Fred Carter's most arresting works is his heroic larger than life-size figure of a coal miner, now installed at the Emory and Henry College library. He carries, besides his iconic helmet, lunch-pail, UMW bag and shovel, an iron lung on his chest. His ultimate work, also installed at Emory and Henry, is a janus-like figure of natural life and a mechanistic vision of death, called "The Final Battle".
Since his death in 1992 Carter has been honored by several retrospective exhibits, most notably Unrecognized Artists at the William King Regional Arts Center in Abingdon in 1997, and Fred Carter Retrospective: A Primitive Visionary's World View, curated by DR Mullins for the 1912 Gallery at Emory and Henry College., Emory, Virginia, in 2000.
 
In the fall of 2013 the American Visionary Art Museum in Baltimore, Md., devoted an entire gallery to Fred Carter's work as part of their year-long thematic exhibit, Human, Soul & Machine: The Coming Singularity!.
The work of Fred Carter is featured in the Summer 2014 issue of Raw Vision magazine with the article Appalachian Prophet by Len Davidson.
The works by Fred Carter on this page are shown courtesy of their owners. They are shown in the interest of honoring the legacy of this significant and under-appreciated artist. None of them are currently available for sale.