About the Artist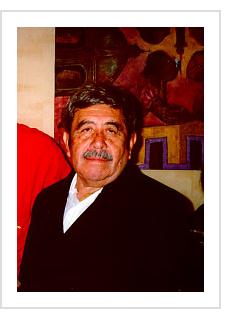 Biography - The guiding spirit of the Oaxaca School was Rodolfo Morales, born in 1925 in the dusty village of Ocotlan. A solitary child, he became a keen observer of the world around him, and early discovered his ability to draw. His parents sent him to study at the Academia de San Carlos in Mexico City . Upon receiving his degree he began a career of teaching art at the Escuela Nacional Preparatoria in Mexico City. Morales worked in relative obscurity until 1975, when Rufino Tamayo took notice of his first solo exhibition in Cuernavaca and introduced him to the world. The old Oaxaca master's support led to further shows in Mexico and Europe, to critical acclaim and in time to commercial success. In 1985 Morales was able to give up teaching and return to his home village of Ocotlan to paint full-time.
Exhibitions - In recent years Morales' paintings have been widely exhibited in Europe and the United States. He was featured in the "Aspects of Contemporary Mexican Painting" show which originated at the Americas Society in New York in 1990, "Mito y Magia in America", at the Museo de Arte Contemporaneo in Monterrey, Mexico (1991) and Hechizo de Oaxaca in the Palace of Fine Arts in Mexico City (1992). He was included in the 1994 exhibition, "Myth and Magic: Oaxaca Past and Present", at the Palo Alto (California) Cultural Center. "Rodolfo Morales: Juegos y Evocaciones", a retrospective of Morales' work opened at the Mexican Museum in San Francisco in 1996 and toured the United States and Canada.In the spring of 1997 Rodolfo Morales joined us in Philadelphia for an exhibition of his work at Indigo Arts Gallery. In the Mexican tradition, Morales has also executed major mural commissions in public buildings in Oaxaca and Mexico City.
For all the international exposure, Morales' work remains firmly rooted in the life, landscape and mythology of his home village, ranging from the grand tableaux of his paintings and lithographs to the delicate but often humorous vignettes of his collages - constructed of silk, ribbons, lace, silver stars and assorted found labels. His collages also illustrate the children's book Angel's Kite, published by Children's Book Press. Well into his seventies, Morales used the fruits of his success to give back to the village and people which nurtured him. He established a foundation for the youth of Ocotlan, turned his home into a cultural center and financed the planting of trees and the restoration of the 16th century Dominican church in Ocotlan. The proceeds of many of the lithographs go to a fund for AIDS education in Oaxaca.
Rodolfo Morales passed away in January 2001. His obituary was published in the New York Times (click to read the obituary) on February 6, 2001.