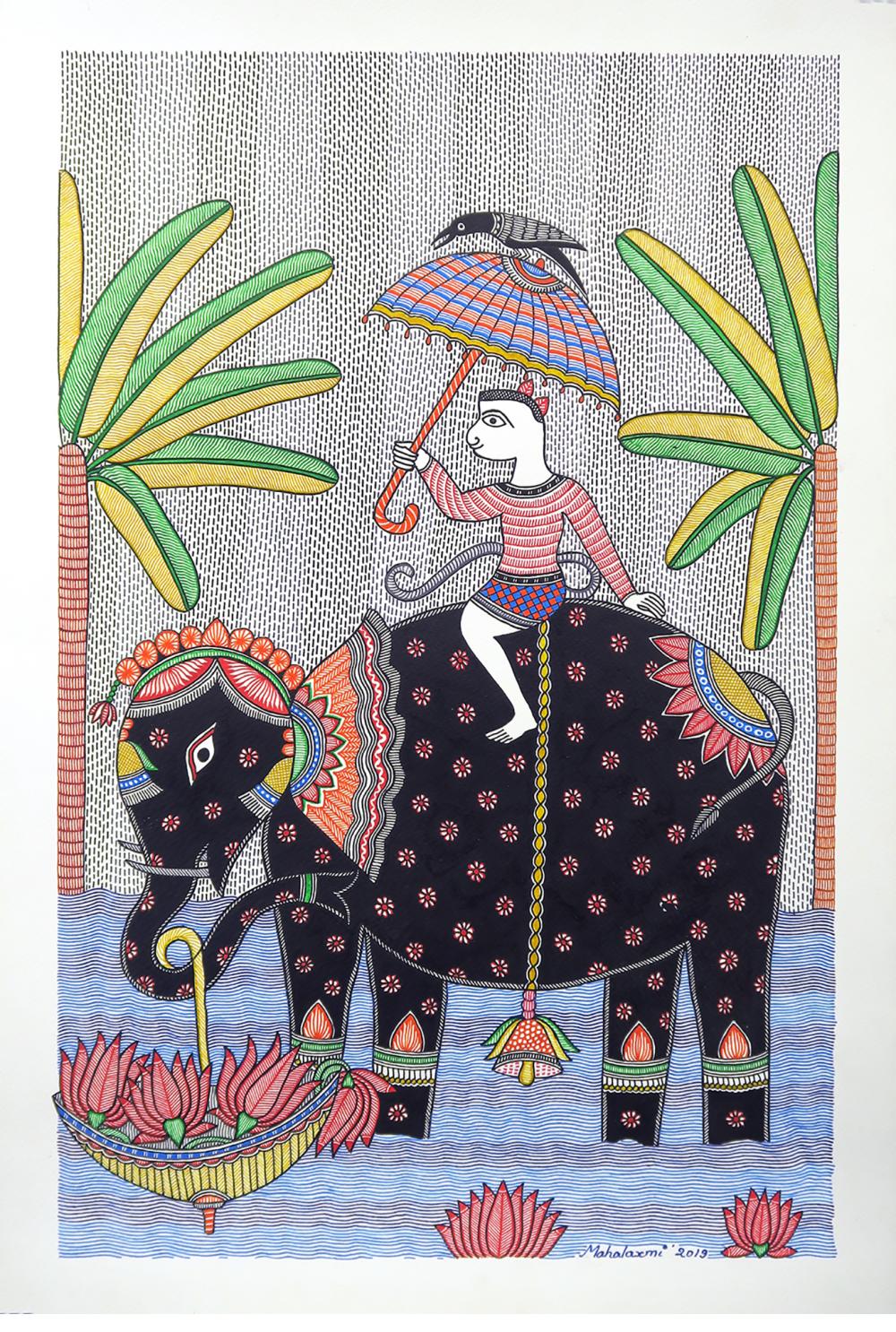 May 2, 2021

to

June 30, 2021
We watch in horror as yet another wave  of the Covid19 pandemic sweeps through India with unprecedented death and devastation.  It is a time to offer both empathy and any assistance that we can. Indigo Arts features a young artist of India who carries on with her work despite the catastrophe around her. 
Mahalaxmi Karn was born in the village of Ranti, in northern Bihar,  just across the border from Nepal.  She has been painting for the last 20 years,   She says she started to paint as a "hobby" but subsequently trained with the esteemed painter Santosh Kumar Das.  In 2013 she was awarded a scholarship by the Ministry of Culture.  In 2016 she received the prestigious Ojas award in India, and in 2019 she was selected to represent the art of Mithila at the International Folk Art Market in Santa Fe, NM.  Her work is in private and public collections in India as well as abroad.  
Mahalaxmi Karn is notable among a young generation of Indian artists who have revolutionized and feminized the traditional folk genre known as Mithila or Madhubani painting.   The art has been practiced in the Madhubani district of the Mithila region of Bihar for many generations. The women of Mithila have decorated the walls of their houses with intricate, linear designs on the occasion of marriages and other ceremonies. Painting is a key part of the education of Mithila women, culminating in the painting of the walls of the kohbar, or nuptial chamber on the occasion of a wedding. The kohbar ghar paintings are based on mythological, folk themes and tantric symbolism, though the central theme is invariably love and fertility.
The contemporary art of Mithila painting was born in the early 1960's, following a terrible famine in Bihar. The women of Mithila applied their painting skills to paper as a means of supplementing their meager incomes. Once applied to a portable and thus more visible medium, the work was enthusiastically bought by tourists and folk art collectors alike. As with the wall paintings, these individual works were initially painted with natural plant and mineral-derived colors, using bamboo twigs in lieu of brush or pen.  Over the ensuing forty years a wide range of styles and qualities of Mithila art have evolved, with styles differentiated by region and caste.
Mahalaxmi paints both solo and in collaboration with her husband, Shantanu Das.  Sometimes they sign the work as Mahalaxmi Das.  Most of the work is acrylic on paper, but she also paints on canvas and on murals.  While most Madhubani painters tended to reprise the tried and true images of religious deities and Hindu mythology, Mahalaxmi "decided to break away and include subjects that were more unusual, like portraits of everyday people and even visual depictions of Hindi poems."  Many of her works have a strong feminist theme.  A series called, "Household Diaries," depicts women in their "various incarnations"— wives, mothers, workers and painters.  She depicts a modern Indian woman caring for a baby, taking a child to school, tending to crops, picking flowers and taking selfies on her phone.  In a wry commentary on the patriarchy, a woman massages her husband's feet while he reads the paper, with the flat screen TV watching over the scene.  
Mahalaxmi puts a new twist on classic themes, such as her umbrella-carryng Hanuman on the Elephant.   The mermaid-like goddess Matsya (avatar of the god Vishnu) taking a selfie or reading a book while wearing a Covid mask.  In Mother Train, a 2020 painting that seems painfully innocent today,  she depicts a mask-wearing train carrying its cargo of masked migrant workers home during the earlier pandemic lockdown.