About the Artist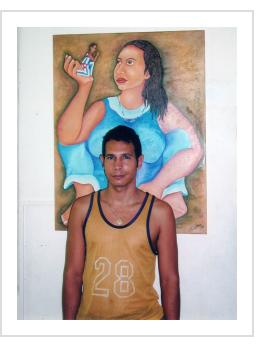 Born - 1975, Cienfuegos, Cuba.
Biography - Javier Gonzalez Gallosa is a self-taught artist who has exhibited his work since 2000. He had several solo exhibitions in his home city of Cienfuegos before emigrating to the United States a few years ago. He has participated in group shows in Spain, France and the United States as well as in Cuba. His work was featured in the exhibtion, "Orishas" at the Center for Cuban Studies in New York City, December 2003.
Gallosa's painting Mujer con Pez is featured on the cover of the 2009 album Timba Talmud, by the Sexteto Rodriguez, lead by Roberto Juan Rodriguez, on John Zorn's Tzadik label.