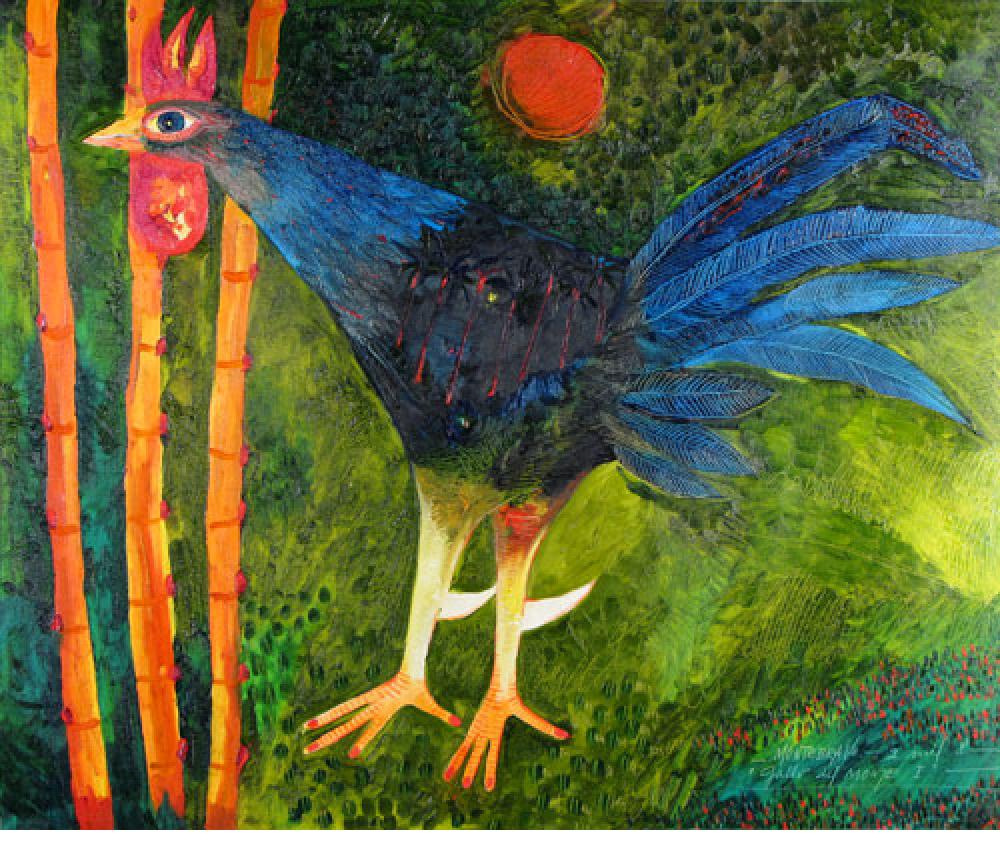 March 12, 2009

to

April 25, 2009
Paintings and prints by Javier Gonzalez Gallosa, Joel Jover, Alejandro Lazo, Alicia Leal, Reina Ledon, Mederox (José Mederos Sigler), Manuel Mendive, José Garcia Montebravo, Abel Perez Mainegra, Luis Rodriguez Arias, Jorge Sanfiel, Roberto Torres Lameda, Elio Vilva,Wayacon and others.
Philadelphia, PA - Marking ten years of exhibiting Cuban art in Philadelphia, Indigo Arts Gallery presents Visiones 2: New Art from Cuba. The exhibit coincides with both the 50th anniversary of the Cuban revolution and the inauguration of a new president in the United States. The decades long trade embargo and the ban on travel by Americans to Cuba means that contemporary Cuban art is little exhibited in the United States. Tourist maps of the Caribbean routinely omit its largest island (and closest to the United states) entirely. But the powerful and expressive artwork shown here makes the vision and vitality of Cuba's artists abundantly clear.
Visiones 2: New Art from Cuba, follows on Indigo Arts' 2003 show, Cuban Visions/Visiones Cubanos. This is the sixth show of work by artists from Cuba at Indigo Arts, which has specialized in international ethnographic, folk and contemporary Arts since1986. The show is offered in the hope that 2009 may mark a new beginning in relations, cultural as well as political, between the United States and Cuba.
The exhibit opens on March 12th, 2009, with a reception from 6 to 9pm, and continues through April 25th, 2009. Regular gallery hours are Wednesday through Saturday, from 12 to 6pm.
The collection in Visiones 2 includes work by both self-taught and trained artists who live and work in Cuba. Among the self-taught artists are Javier Gonzalez Gallosa, José Garcia Montebravo, Jorge Sanfiel and Jorge Rivera Bernal from Cienfuegos, Abel Perez Mainegra and Elio Vilva from Trinidad, Reina Ledon and Pelly from Pinar del Rio, Jorge Sanfiel and Wayacon from Santa Clara, Alejandro Lazo from Havana, as well as Luis Rodriguez Arias and Roberto Torres Lameda, from near Santiago in eastern Cuba. The work by trained artists includes paintings by Joel Jover of Camaguey and works on paper by Havana artist Alicia Leal and the renowned Afro-Cuban master, Manuel Mendive.
The art reflects the daily rural life of Cuba, in the domestic scenes and landscapes of Rodriguez Arias, Torres Lameda, Reina Ledon, Gallosa and Pelly. Humorous juxtapositions of sacred and profane abound, as in Gallosa's religious precession, "El Palo Guachinango". One of the bearers of the statue of Santa Barbara wears a Che Guevara t-shirt, emblazoned with the ubiquitous slogan "hasta la victoria, siempre", and others wave Cuban flags, while two dogs mate unashamedly in the foreground.
The octogenarian naif painter Abelito Perez Mainegra paints images of Jesus, Che Guevara, Jose Marti and the last supper with equal fervor.
Despite fifty years of communism, the art of Cuba is suffused with spirituality, of Christianity blended with Afro-Cuban religions such as Santeria. Examples range from the relatively literal images of saints and religious festivals by Gallosa and Pelly to the highly symbolic. Manuel Mendive's is an amorphous spirit world of the orishas, a syncretism of Catholic saints with the deities of the Yoruba people. Elio Vilva's tarot card-like images of the orishas list all their attributes with taxonomic precision. The paintings of Joel Jover, Alejandro Lazo and Mederox are mysterious but powerful images of the divine. Lazo's work derives in large part from the Afro-Cuban religion of Palo Monte or Palo Mayombe - a nature-based religion whose name refers to the palos or sticks and branches that are used in magic spells. Critic Conrado de la Torre Saenz writes that Lazo "paints with energetic, vital and defiant gestures, a turmoil of feelings..."
Much of the work of José Garcia Montebravo is also inspired by the orishas, but with visual sophistication and ironic sense of humor. Montebravo is best known for his powerful images of Afro-Cuban infantas or princesses. In a witty play on both the court portraits of Velasquez and the Latin American"santo" icon tradition, Montebravo's infantas are unmistakably Afro-Cuban women who carry the attributes of the orishas to which they are devoted. His "Infanta con Girasoles" holds sunflowers and wears a yellow dress and beads in honor to the orisha Oshun the protector of sailors, who is associated with the patron saint of Cuba, the Virgen del Cobre. While self-taught as a painter, Montebravo is a broadly-educated and endlessly curious man. The sources of his inspiration are diverse, encompassing natural history, religion, philately, and the entire history of art: "I find inspiration in the works of the greatest Cuban painters of all time and the greatest universal painters known."
Indigo Arts wishes to express its thanks to the Center for Cuban Studies in New York, and its director, Sandra Levinson, for their assistance in presenting this exhibition .The works of Lazo and Mederox, in particular, are shown courtesy of the Center for Cuban Studies.