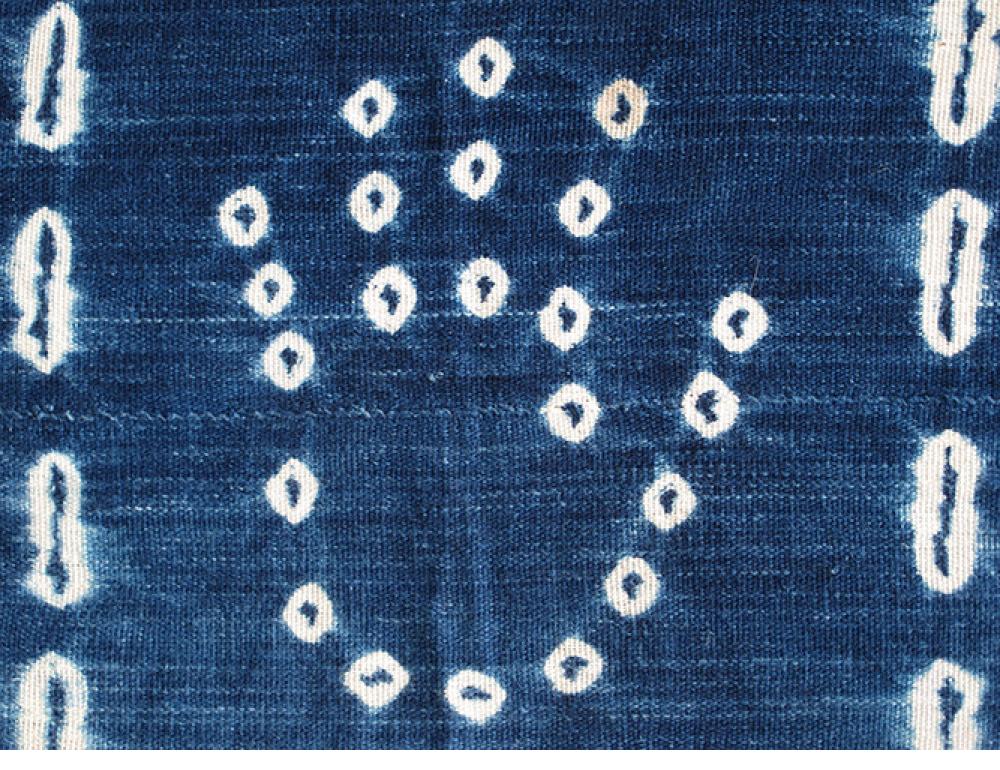 April 12, 2018

to

August 23, 2018
Second Thursday Reception:  April 12, May 10, 6 to 9pm
Special Event – Trunk show with Yoruba, Nigeria, Master indigo dyer Gasali Adeyemo:  Saturday, May 19th, 5 to 8pm.
Gallery Hours: Wednesday - Saturday, 12 - 6:00 pm.
Location: Indigo Arts Gallery, 1400 North American St., #104, Philadelphia PA 19122 
Under an Indigo Sky:  West African Textile Arts celebrates the hue that has been our inspiration and our namesake for the last thirty-one years.  The exhibit offers a look at the rich tradition of indigo textiles in Africa, and the arts in indigo that flourish today.  These include both dyeing and weaving with natural indigo dyes in Africa.  Techniques include the cassava-resist dyed adire cloth of the Yoruba people of Nigeria, tie-dyed and stitch-resist dyed fabrics of the Bamana and Dogon people of Mali, and the Mossi of Burkina Faso and strip-woven wraps of the Baule of Ivory Coast, ashoké (aso oké) prestige cloths of the Yoruba, and kente cloth from the Ewe of Ghana and Togo. We are pleased to bring back Yoruba master indigo dyer and batik artist Gasali Adeyemo, for a trunk show on May 19th.  Mr. Adeyemo, who taught an indigo dyeing workshop here in 2012, will also be leading an indigo workshop at a location in Germantown (details will be added when they are available).
Gasali Adeyemo
Born in the small village of Offatedo in Osun State, Nigeria, Gasali Adeyemo showed an early skill for drawing.  He found time between work in the fields to sketch portraits of guests at funerals, weddings and naming ceremonies.  In 1990 he began studying at the Nike Center for Arts and Culture (founded by Nike Okundaye, the former wife of the late artist Twins Seven-Seven) in Oshogbo, Nigeria.  There he mastered the arts of indigo dyeing, batik, embroidery and appliqué.  After two years of study he stayed on to teach for another four years.  A 1995 exhibit of his artwork in Bayreuth, Germany led to a number of exhibits abroad.  In 1996 he exhibited his work in Iowa, and he subsequently settled in the United States.  Today he lives in New Mexico and conducts workshops and exhibits all over the country.
A Brief History of Indigo
As a word, indigo has been a symbol of many things, from the blues of "Mood Indigo" to the global cool of blue jeans.  Indigo dye, a vibrant deep-blue hue, is derived from a plant family called indigofera tinctoria. The dye process requires boiling or steeping the leaves of the Indigo plants and then fermenting the brew.  Once the fabric is dipped into the dye and lifted into the air it almost magically turns from bright green to a deep blue.  Each region has its own recipes and techniques, but in most cases it requires many successive dippings to attain the intense blue color we associate with indigo.
Indigo was grown in India, Indonesia, China, Japan, Korea, Mexico, Guatemala, Haiti, Peru, and Africa. Each country has it's own history and traditions of dyeing with Indigo.  When indigo was first brought to Europe it was an instant sensation, largely replacing the much weaker blue hue of woad.  By the 17th century it had become a precious trading commodity, a "blue gold" which brought with it both great wealth and intense suffering.  Ships called "East Indiamen" crossed the seas laden with silks, spices and Indigo. 
In the new world indigo was by far the most valuable crop of the slave economy.  It was largely because of the cultivation of indigo by African slaves that Haiti became the most valuable colony in the New World.  In the mid-18th century indigo cultivation, also by slaves, was brought to South Carolina.  In India, the British colonial powers imposed indigo cultivation at the expense of food production to the extent that the peasants starved.  This led to the "Blue Mutiny" of 1861, in which the Bengali peasants rose up against the planters and refused to grow indigo.
In the United States the current cachet of indigo dates to 1873 when San Francisco merchant Levi Strauss and tailor Jacob Davis first fashioned sturdy trousers for miners by reinforcing indigo-dyed denim with metal rivets.  The rest is history, as they say.  The invention of far cheaper aniline dyes in 1856 ultimately supplanted natural indigo dye in the world marketplace.  Though Levi Strauss & Co. stopped dyeing their jeans with natural indigo over a century ago, indigo, like blue jeans has persisted as a symbol of "cool" worldwide.
Large-scale indigo plantations died out in the 20th century, but small-scale cultivation has persisted in the parts of the globe where indigo dyeing and weaving are still treasured.  Traditional indigo artisans in locales as diverse as Mali, Nigeria, India and Japan have preserved old techniques.  Fortunately there are centers where the art form is being passed on to new generations.  One such center is the Nike Center for Arts and Culture in Oshogbo, Nigeria, where our guest artist, Gasali Adeyemo learned his craft.
Two recent documents recount the story of indigo, Catherine E. McKinley's book Indigo:  In Search of the Color that Seduced the World (2011), and Mary Lance's documentary film:  Blue Alchemy : Stories of Indigo (2011).
Indigo Arts Gallery
Thirty-one years ago we opened a small store and gallery of international folk art in Philadelphia.  We sought a name that could tie together the many diverse countries and cultures from which we collected the work.  We chose the name Indigo, for the dye which infused the textiles from many of those countries - ikats from Indonesia and Guatemala, kente and ashoké from Ghana and Nigeria, tie-dyes from Japan and Mali and batiks from Java and China.  The word indigo evoked the sights, the smells and the sensory richness of far-off lands. Thanks to our customers, Indigo Arts Gallery is still here thirty-one years later.  It has evolved - moving physically four times and going online - and many of those "distant lands" no longer seem so far off.