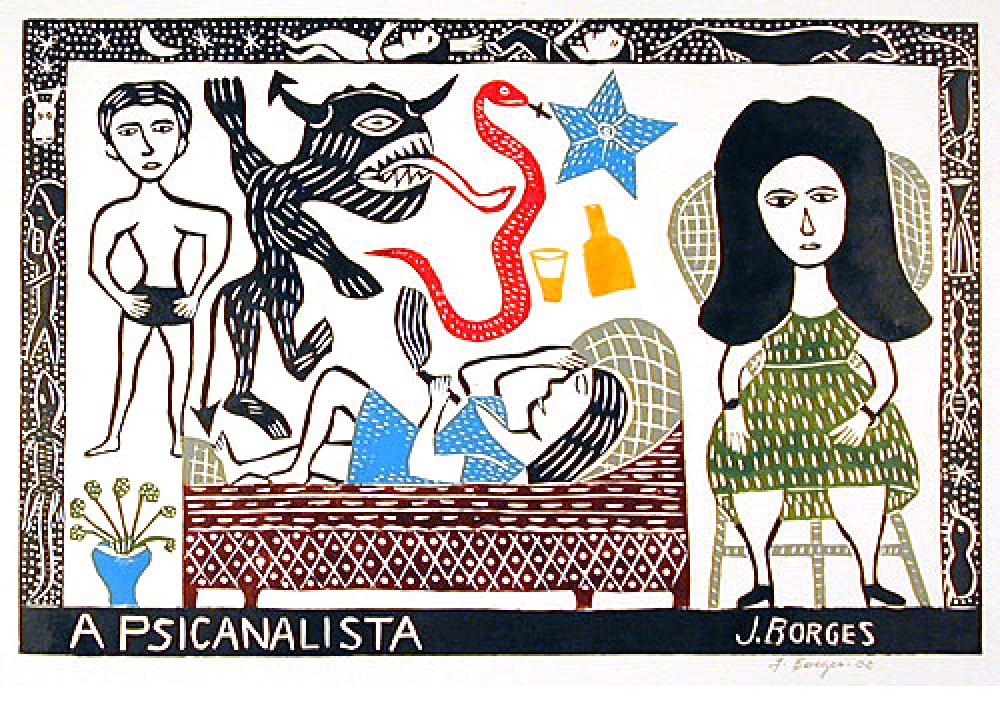 April 1, 2005

to

July 31, 2005
Wood-cut prints by José Francisco Borges, Ivan Borges, Severino Borges, José Miguel da Silva, Marcelo Soares, Abrao Batista and others from Pernambuco, Brazil.
Carved wood milagré ex-votos from Ceara and Pernambuco.
PHILADELPHIA - The new exhibition opening at Old City's Indigo Arts Gallery on April 1st features two distinct folk arts from Brazil's Northeast: the folheto tradition of wood-cut prints, represented by the work of José Francisco Borges and others, and the carved wooden ex-votos called milagrés.
Artist and poet José Francisco Borges was born in 1935 in the village of Bezerros, Pernambuco state, in Northeastern Brazil. Today Borges is Brazil's best-known folk artist working in the wood-cut medium, and his work has been exhibited all over the world. But he comes out of a long tradition of folk poet/artists who publish their own work in the form of small, cheap chap-books or pamphlets written in verse, known as folhetos. The folhetos present the full-range of popular literature - murders, mysteries, romance and tall tales - cheaply printed and illustrated with woodcuts. They are also known as literatura de cordel after the way vendors sell them in the marketplace, hanging over a string. This tradition (including the work of Borges) is described in detail by Candace Slater in her book Stories on a String. The current show also includes work by other artists working in the folheto woodcut medium, including José's sons, José Miguel da Silva and Ivan Borges, his brother Amaro Francisco Borges, nephews Severino and Givanildo Borges, Marcelo Soares and Abrao Batista of Juareiro do Norte in Ceara state.
Art historan Marion Oettinger, Jr. describes these folhetos in his book The Folk Art of Latin America: Visiones del Pueblo: "Brazilian chap books deal with popular poetry, accounts of local catastrophes, popular legends, famous crimes, and infamous love affairs. The Man who Married a Donkey, The Son Who Murdered His Parents in Order to Get His Hands on Their Retirement Benefit, The Football Game in Hell, and The Overturned Bus Disaster are examples of the alluring titles found in a typical marketplace. The front of these pamplets usually contain wood-block illustrations of the book's contents, and they, in themselves, form a special type of folk expression.... Frequently, chap book vendors sing the songs in their books or read aloud the contents of their books to market crowds, many of whom are illiterate, and their voices usually draw enormous gatherings."
José Francisco Borges began writing verse for folhetos in his 20s, and soon also began to operate a printing press to produce woodcut prints for their covers. In the 1960s his woodcuts came to be recognized in their own right. He was encouraged to produce images in larger formats, in color as well as the more traditional black and white. But even in larger formats, his prints reflect the same popular themes, such as The Honeymoon of Matuto (an archetypal back-country bumpkin), The Monster of the Backlands, The Woman who Put the Devil in a Bottle, and many tales of the legendary bandit Lampiao. Borges' work has now been exhibited all over Brazil as well as in Paris, Zurich, Buenos Aires and in Germany and the United States. The Louvre, the Smithsonian and the Museum of International Folk Art in Santa Fe have exhibited Borges' work. Borges also collaborated with the noted Uruguayan author, Eduardo Galeano, providing fanciful illustrations for his collection of equally fanciful tales, Walking Words. You may read more about Borges in the New York Times article, "From Brazil's Backlands, a Master of a Folk Tradition" (March 27, 2002).
Still more recently, the New York Times carried an excellent article on the cordel tradition, featuring Borges and others, "The Traveling Troubadors of Brazil's Backlands" (June 14, 2005). To see our complete selection of work by Borges and other Brazilian artists go to our Brazilian Art Gallery.
Another distinct Brazilian folk art is the milagre (miracle in Portuguese), a hand-carved wooden ex-voto which physically represents a body part or even a whole person in search of healing. In the rural village churches of northeastern Brazil, and particularly in popular pilgrimage shrines such as Sao Francisco das Chagas, the afflicted offer milagres in a chapel called a casa de milagres (house of miracles) in hopes of heavenly intervention or in fulfillment of a vow. As Oettinger describes, each milagre "shows the particular affliction that prompted the pilgrimage - a wounded hand, recovery from breast surgery, a twisted ankle... Tens of thousands of ex-votos are offered, most similar to those shown here, others taking the form of before/after photos of burn victims, children injured in automobile accidents, and people shot during domestic squabbles. Politicians offer campaign posters as testaments to Sao Francisco's help in the race for local offices".
Indigo Arts Gallery has been fortunate to acquire part of a large collection of milagres from the states of Ceará and Pernambuco. They had been collected by a Brazilian doctor who used them to study the nature and prevalence of various physical ailments in a remote rural region of Brazil. The collection was featured in an article in the Wall Street Journal in November, 1999.