About the Artist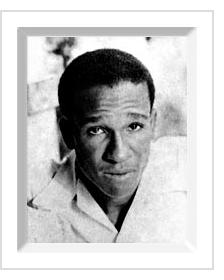 Celebrated Haitian artist Wilson Bigaud, one of the great masters of Haitian painting, died at the age of 85 in his home in Vialet, a community in Petit-Goâve, 68km south-west of Port-au-Prince, where he had spent the last 55 years of his life, as Radio Kiskeya reports. Bigaud, who had had eye surgery recently, had ceased painting last summer. Bigaud was born in Port-au-Prince, Haiti. His date of birth remains unclear, as it is variously reported as January 1920, 1930, and 1931. His family stated that he was 85 at the time of his death.
At age 18, he met Dewitt Peters and joined the Centre d'Art. From the first his drawings were densely detailed. Working towards a mastery of color as well as an illusion of volume modeled in light and dark, Bigaud demonstrated a mature command of his art in the great "Terrestrial Paradise" (1952), painted when he was just 21. "Paradise" won second prize in an international art exhibit in Washington, D.C. and was subsequently purchased for the permanent collection of the Museum of Modern Art in New York along with works by Gourgue, Philomé Obin and Georges Liautaud.
In 1951 he was one of the handful of artists chosen to execute the landmark murals in the Episcopal Cathedral of Sainte Trinité, which were destroyed in the January 12 earthquake. His masterpiece in Ste Trinité Episcopal Cathedral in Port-au-Prince, the Marriage at Cana, anthologizes many of the themes he had treated previously and introduces numerous details of Vodou ritual into the Christian subject. He has been called a popular realist, as he delighted in the festivals of carnival and Rara, representing them in full action and colorful detail. His "Self-portrait in the Carnival Costume of the Fancy Indian" demonstrates his love for lush detail and the golden colors that suffuse many of his paintings. His genre scenes are material rather than dreamlike, solid and respectful of the limitations of naturalism. The ritual and mystery of Vodou are presented as he observed them in reality.
In 1957 Bigaud sank into a deep depression and did not paint again until 1962. Some say that he never regained his early brilliance but there are few artists in Haiti or anywhere else who were as able to communicate the subtleties of their culture with brush on canvas. His paintings are an integral part of the best collections of Haitian art around the world. Bigaud suffered from severe depression for most of his life, which caused him to cease painting almost entirely for many years. Dewitt Peters, founder of the Centre d'Art, described Bigaud as "obsessed by the fear of losing his gift," and the artist's friends believed that he had made a pact with a houngan – a voodoo priest – to preserve his talent. Bigaud remained without question one of the major figures of Haitian painting. With Bigaud's death, Radio Kiskeya expressed, Haitian painting has lost one of its greatest artists, joining other internationally-known artists who have died recently, such as André Pierre, Gesner Armand, Néhémy Jean, Louisiane St-Fleurant and Alix Roy (who died in the earthquake).
Radio Kiskeya obituary.  For more (in French) go to http://www.radiokiskeya.com/spip.php?article6652