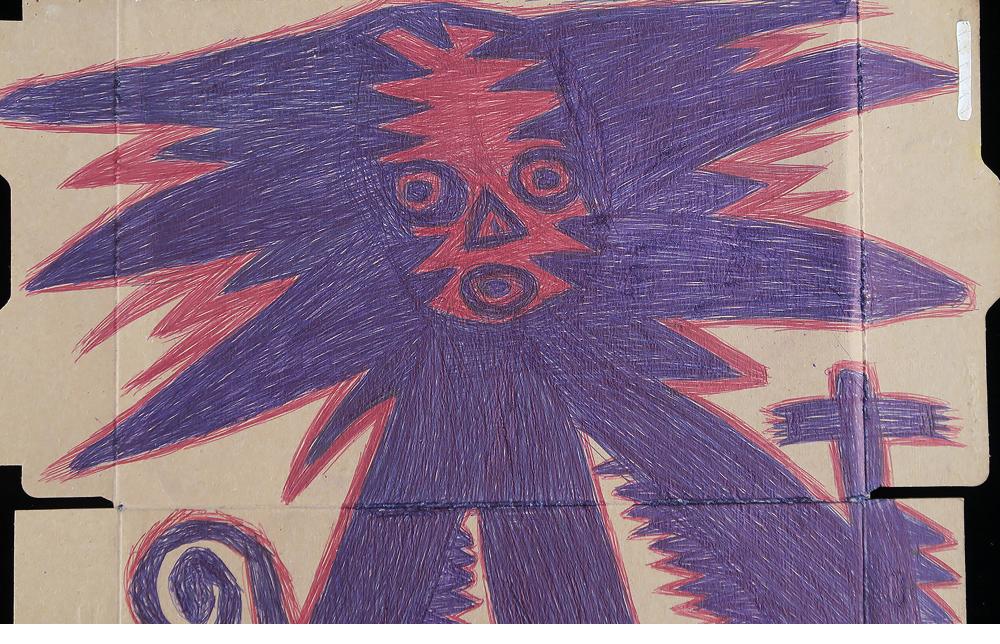 March 1, 2023

to

June 15, 2023
An Online Exhibition of Outsider Art
Indigo Arts didn't exhibit at the Outsider Art Fair this year, but there is plenty to see on our online gallery. The selection of artwork is "Out There", in the geographic as well as the figurative sense. One may prefer to call the art Outsider, Art Brut, Intuitive, Visionary, Naif or Self-taught. Each term has its own advantages and limitations, and some artists fit more comfortably under one name than another. 
These artists also come from outside of the Eurocentric and Americocentric realms that have long dominated the field of Art Brut. The work originates from sources as diverse as villages of Kenya, Tanzania and Nigeria, remote Mexican pueblos, Adivasi settlements in India, and the fringe communities of Havana, Nairobi and Port-au-Prince.
Artists in the Indigo Arts collection include:
Haitian artist Frantz Jacques, who goes by Guyodo, an innovative and charismatic recycler-artist who lives and works in the ruins of Port-au Prince's "Grand Rue".  His work has been shown in New York, Paris and at the Collection de l'Art Brut in Lausanne, Switzerland.  Guyodo works alongside other members of the Atis Rezistans (literally artists of the resistance) and a group of young artists known as the "Timoun Rezistans" (children of the resistance).   Other Haitian recycler sculptors include Kesnard and Davidson Thermidor and the anonymous artists who fashioned helicopters and armored vehicles from plastic milk bottles during the 1994 US-led invasion of Haiti.
Gerard Fortuné, a Haitian painter who worked most of his life out of a few shacks nestled in the woods between two walled compounds of the elite above Port-au-Prince.  A monograph of his work was published a few years before his death in 2019.
Cuban outsider Wayacon, a resourceful mixed media artist in Cienfuegos who fashions art out of whatever he finds.  "Wayacon is a fish that swims in all kind of water, both dirty and clean", he explains.
Three other Cuban artists who found solace in art after major psychological crises:  Damian Valdez Dilla, and Carlos Garcia Huergo work in Havana today, and have shown their work internationally.  Carlos' life and work are featured in "Carlitos' Way", an article in the Spring 2023 issue of Raw Vision.  Mario Mesa (1928 - 2016), who had been either a political prisoner or a mental patient or both in Cuba, arrived in Miami during the Mariel Boatlift of 1980.   Art  programs for the mentally ill in Florida led him to a second career as an artist.  
Kenyan artist Kamante Gatura (1912 - 1985), who found early fame of a sort as the young cook in Karen Blixen/Isak Dinesen's memoir Out of Africa.  Nearly 60 years later his artistic talents were encouraged by the American expatriate photographer Peter Beard.  He illustrated several of Beard's books and produced a large body of drawings of Kikuyu traditions and African wildlife.
"Sane" Mbugua Wadu, a Kenyan self-taught expressionist who early took the name "Sane" as a retort to the many people who pronounced him insane.  Today he has created an art foundation in his home town of Naivasha, where the children of his community receive art lessons.  
Lengisia Lekulen, a Maasai askari or guard who makes delicate pointillistic ink drawings of Tanzanian wildlife.  
Phillip Oluwafemi Babarinlo, a Yoruba artist from Oshogbo in Nigeria.   Long associated with the "Oshogbo school" of post-independence artists, such as Twins Seven-Seven and Asiru Olatunde, he has followed his own path in the US.
Ivorian artist Frédéric Bruly Bouabré (1923 - 2014), an encyclopedic artist who sought to catalog all aspects of his Bété culture and language, and of the world as a whole, in hundreds of index card sized pen and crayon drawings.  How work was featured last year in a retrospective at the Museum of Modern Art, Frédéric Bruly Bouabré:  World Unbound.
Self-taught, naif artists from the countryside outside of Santiago, Cuba, such as Francisco Ravelo Calunga  Angel Llopiz Martinez and Roberto Torres Lameda.
Sign Painters from Haiti and West Africa.
Haitian Koupe Fè artists such as Gabriel Bien-Aimé, who has hammered raw and quirky sculptures out of recycled steel oil drums for over fifty years.  While other artists have followed the lure of production designs for the garden and boutique market, he has persisted with his singular creations.  His work was celebrated in the groundbreaking 1989 show at the Centre Pompidou in Paris,  Magiciens de la Terre.  
Indigenous or Adivasi artists from India, whose innovative work is nurtured by traditional 'tribal" art styles, including Bhil painter Bhuri Bai, Warli artist Shantaram Tumbada and Baiga painter Shagun Devi.
Haitian drapo Vodou artists who have taken the traditional liturgical art of the sequined and beaded Vodou flag far beyond its traditional roots.  Artists include Evelyn Alcide, Roudy Azor, Mireille Delice, Yves Telemak and many whose works are unsigned.
Jesus Lorenzo and other members of the prolific Lorenzo clan of Guerrero, Mexico, who have followed their late patriarch Lucas Lorenzo, creating small paintings on masonite which blend the folk arts of amaté paintings with the Mexican ex-voto painting.
Pierrot Barra (1942 -1999) a Haitian bizango priest who sold his spectacular mixed media Vodou sculptures out of a booth in Port-au-Prince's old  Marché de Fer.  His works, celebrated in the book, Vodou Things: The Art of Pierrot Barra and Marie Cassaise, are rare today.