I will be out of town from July 11th to 20th.  The gallery will not be open but the website will be working away as usual.  Orders will be shipped after July 20th.  I will be checking email mesages and should be able to repy  to inquiries.
Indigo Arts has moved upstairs to a space on the fourth floor of the Crane Building.  I am still arranging things up here but I am open on a "by appointment or by chance" basis.  I am usually in the building from Wednesday through Saturday from 12 to 6, but it is definitely best to phone or email first. Meanwhile, the Indigo Arts online gallery is operating as usual.  
Please feel free to contact me with any questions in the mean time.
Tony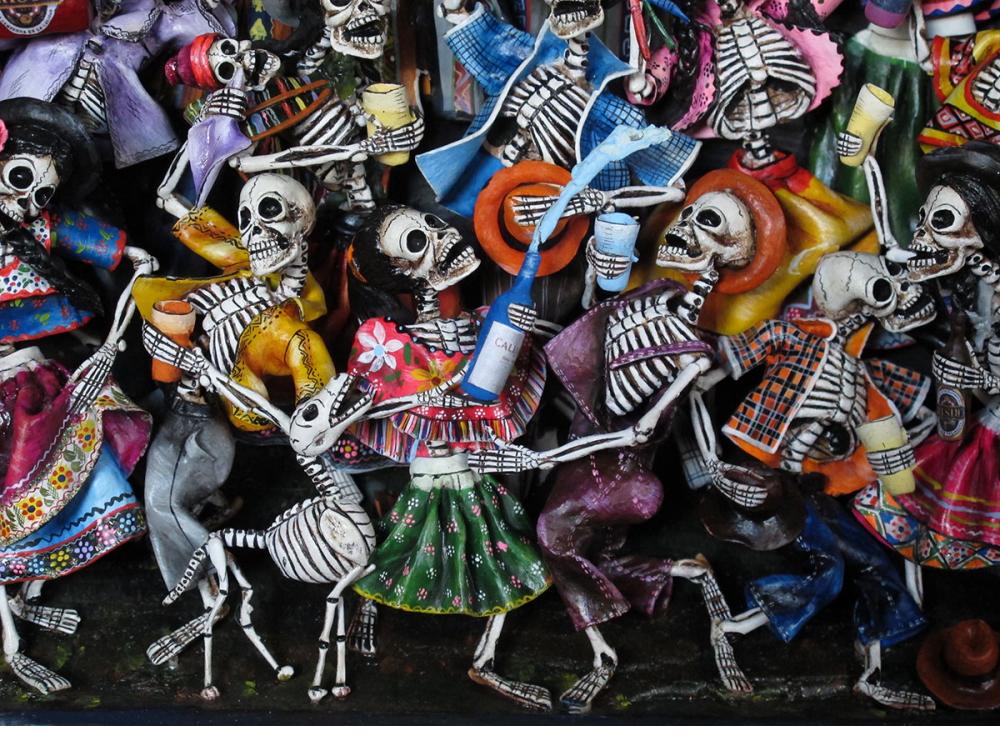 October 11, 2017

to

November 4, 2017
In Calaveras, Indigo Arts brings back a seasonal selection of Peruvian retablos by master artist Claudio Jimenez Quispé.  The traditional Peruvian retablo is a portable shrine or nicho that holds figures sculpted of pasta (a mixture of plaster and potato).  As interpreted by contemporary Peruvian artists the retablo is a medium to depict all aspects of contemporary life, and even narratives of social strife and civil war.  Claudio Jimenez Quispé is the acknowledged master of the Peruvian retablo, heir to a multi-generation artistic tradition in the highland region of Ayacucho.  In this work he has expanded on the macabre Mexican tradition of Los Dias de los Muertos, the Days of the Dead.  Like the engravings of the great early 20th century Mexican artist Guadalupe Posada, Claudio's scenes of the underworld populated by calaveras (skeletons) are a vehicle for satire, political critique and even sacrilege, as in the "Nacimiento de los Diablos" (Devils' Nativity).