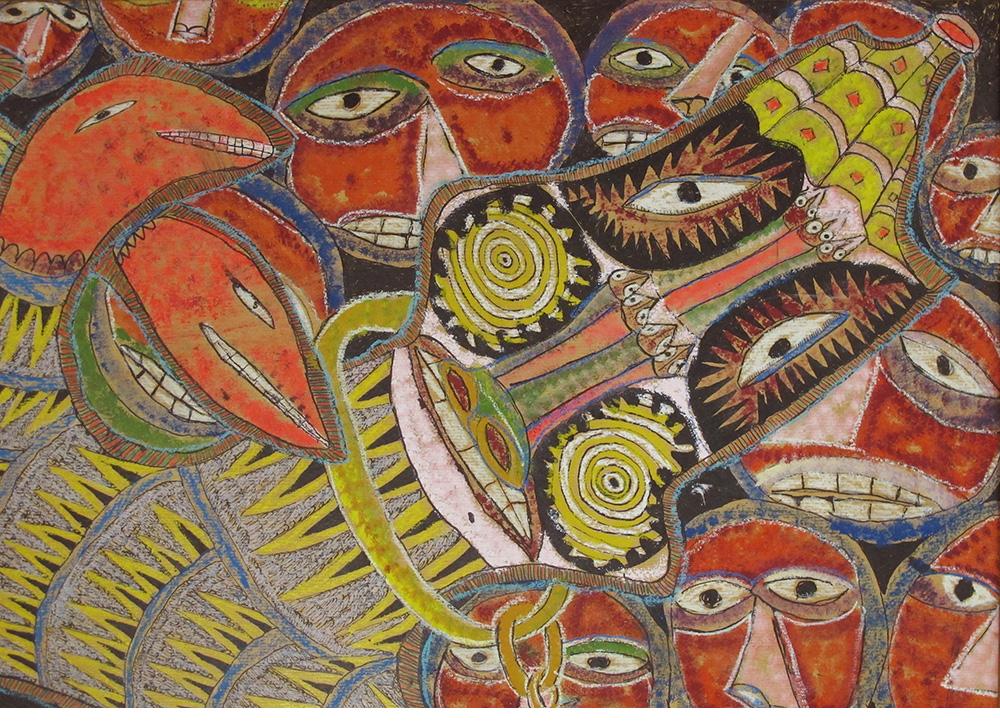 May 18, 2016

to

October 8, 2016
Africa Modern celebrates thirty years of showing the arts of Africa at Indigo Arts.  The exhibit samples the staggering range of artwork from the fifty years following Africa's independence from colonial rule - roughly from 1960 to 2010.  It includes paintings, prints and sculpture by artists from Kenya, Mozambique, Nigeria, Tanzania and Senegal.  Artists include: Kamante Gatura, Kamau "Cartoon" Joseph, John Kamicha, James Mbuthia and Sane Wadu from Kenya; "Dino" (Camordino Mustafa Jetha) from Mozambique; Yinka Adeyemi, Toyin Folorunso, Femi Johnson and Twins Seven-Seven from Nigeria; Omary Amonde, Mohammed Wasia Charinda, George Lilanga, Sayuki Matindiko and Simon Mpata from Tanzania; and Gora Mbengue and Alexis Ngom from Senegal.
The artists' work is as diverse as the African continent.  Most of these artists are self-taught, or come out of a workshop environment.  Their work is definitely modern in style and medium, but in many cases draws on an older, "tribal" or religious tradition. The Nigerian artists all come out of the Oshogbo artists' workshops that date from the early sixties.  While they worked in various media - oil and acrylic painting, etching, batik, repoussé metal and even beadwork - much of their work was inspired by the traditions and mythology of their Yoruba ethnicity.  The most prominent member of this group was Twins Seven-Seven, who exploded on the Nigerian scene to great acclaim in 1964, but spent much of his later life in exile in  Philadelphia.  
The Kenyan artists vary in style and background but most are self-taught and passed through an artists' workshop, such as the Banana Hill Art Studio, Ngecha Artist Association, or Kuona Trust Art Studio. 
The Tanzanian artists all have links to the Tinga-Tinga popular painting movement invented by the late Edward Saidi Tingatinga in 1968.  His brother Simon Mpata and his cousin Omary Amonde both worked in the lively style he pioneered, but some have veered in other directions - Mohammed Charinda to a documentary and sometimes brutally realistic style and Sayuki Matindiko to a playful cartoonlike style inspired by the magical shetani figures of George Lilanga.  
Mozambique wood-carver Dino also works in a documentary style, depicting places, professions, ceremonies and events of modern Mozambican life with precision and humor. 
The Senegalese artists work with reverse-painting on glass, expanding on a tradition of Muslim religious icons and family portraits, with subjects that draw on modern Senegalese life and folklore.