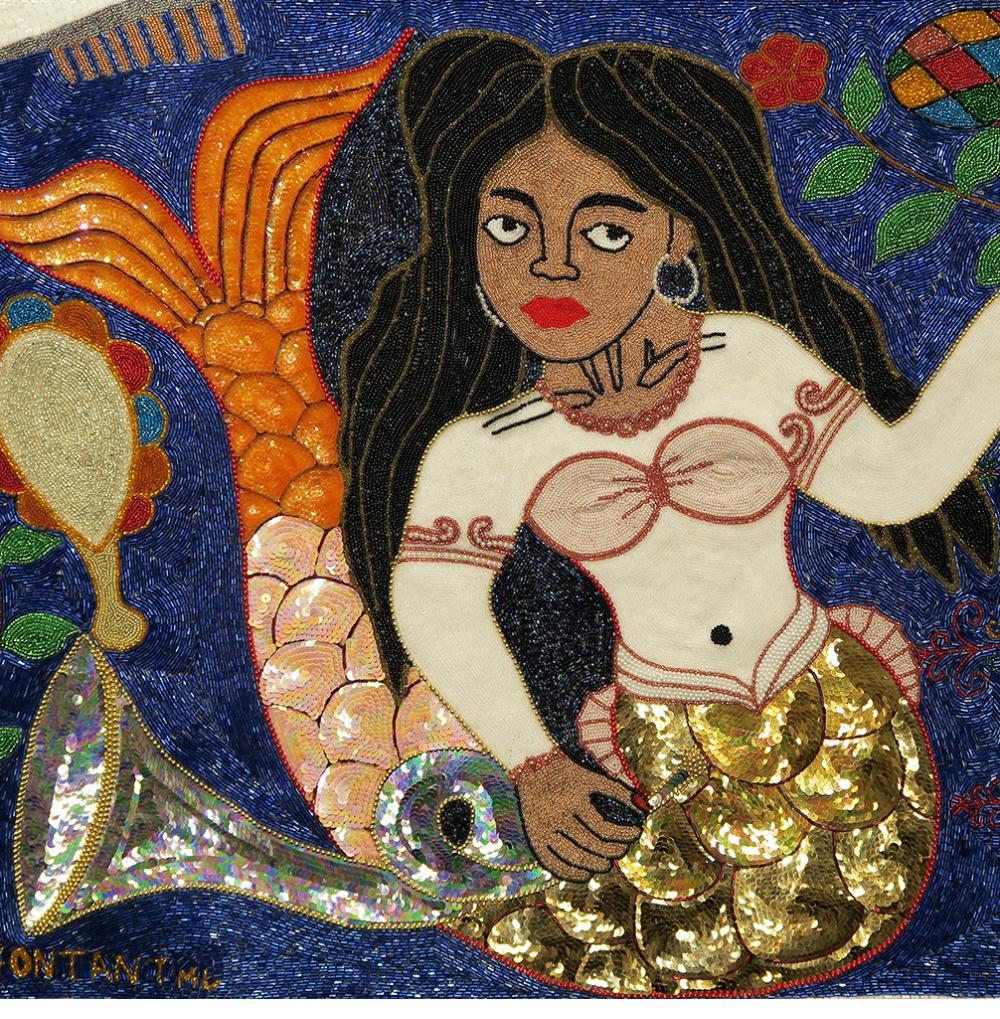 July is hot here in the northern hemisphere, all the more so in this age of global grilling.  Most of us are looking for cool water to dip in.  A good time to celebrate the vast array of water spirits that splash about in our collective unconscious.  Those fish, nymphs, mermaids, mermen and assorted water spirits figure in the art of most cultures, not least in the ones featured here at Indigo Arts.  
In Haiti there are two lwas or spirits of the sea, La Sirene and her consort Agoué, depicted in recycled metal sculptures by Serge Jolimeau and Kesnard Thermidor, paintings by Payas and Gerard Fortuné, and drapo Vodou or Vodou flags by Evelyn Alcide, Roudy Azor, Mireille Delice and others.
Fish tales abound in Africa, from Nigeria to Tanzania.   In Nigeria the Yoruba orisha, the sea deity Oshun shares the stage with the widely followed Mami Wata (Mother of the Waters).  Mami Wata (usually depicted in the guise of an East Indian snake-charmer!) has in turn traveled to Haiti and become associated with the lwa Ayida Wedo as well as La Sirene.  
In India the mermaid goddess Matsya maintains her composure amidst the monsters of the sea.  
In Cuba, the orisha of the sea is Yemaya, and Oshun appears as the Virgen de la Caridad, matron saint of Cuba.  She even appears in Haiti on a drapo Vodou by Georges Valris.
In Brazil she appears in José Francisco Borges' woodcut prints as Yemanjá, Iemanjá or Sereia.
La Sirena and el Sireno abound in Mexican sculpture, paintings and prints. They are found in Peru, both living and late.   And of course they are honored in the art of our LatinX community.