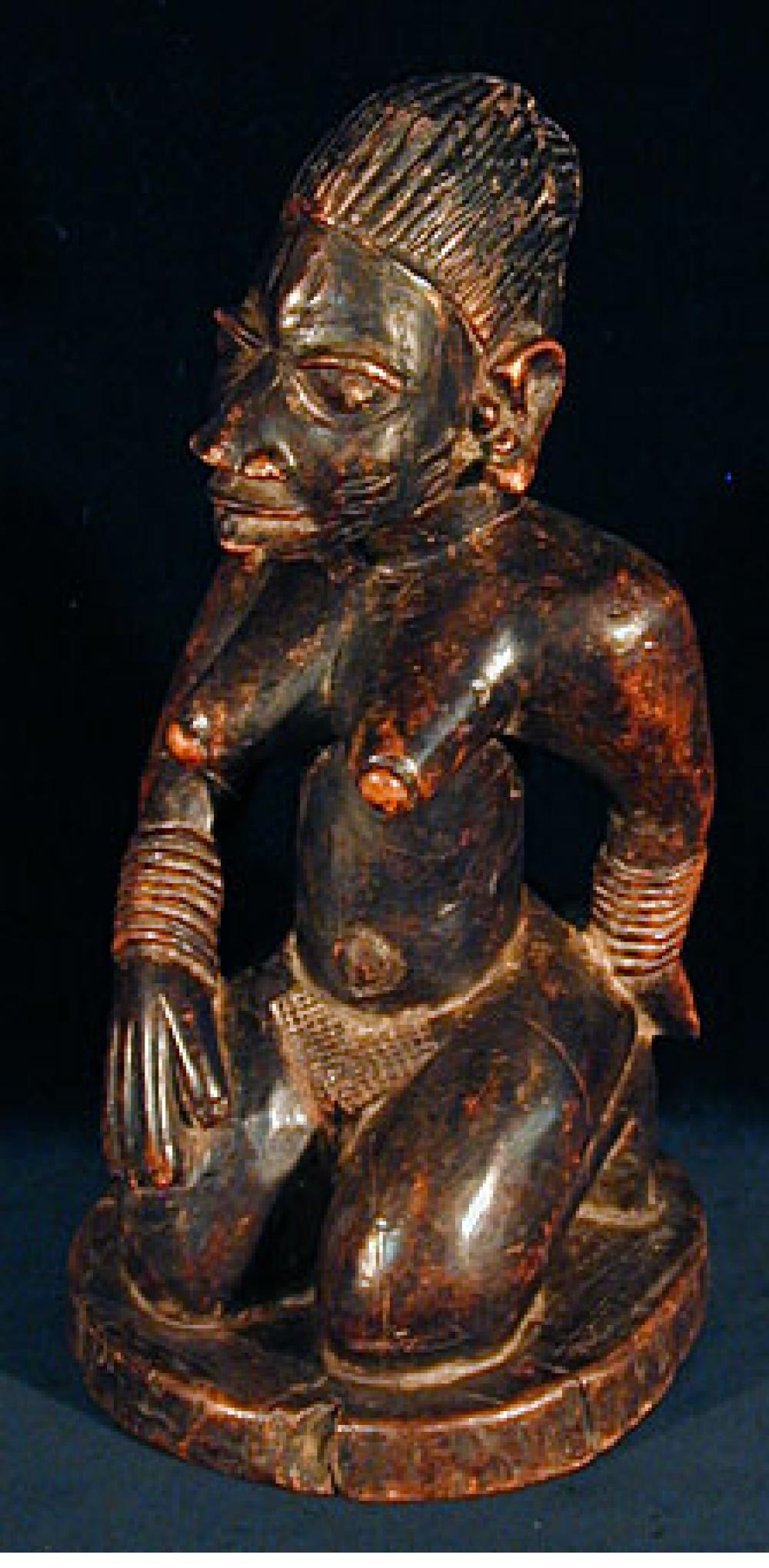 November 5, 2004

to

January 30, 2005
Philadelphia, PA - Indigo Arts Gallery in Old City demonstrates the many different expressions of African creativity with the exhibition African Visions, opening on November 5th. Like the ambitious exhibit currently at the Philadelphia Museum of Art, African Art, African Voices, the show includes work of many media and styles. Indigo Arts draws on its own extensive collection of traditional African art, collected over the last 36 years, as well as the work of contemporary African artists. Founded in 1986, Indigo is Philadelphia's oldest established gallery for African Art.
The exhibit includes a variety of masks, sculpture and furniture from west and central Africa, ceramics from Nigeria and Mali, basketry from the Zulu of South Africa. There are raffia-cloth ceremonial skirts from the Kuba of Zaire, strip-woven kente fabrics of the Ashanti and Ewe of Ghana and ashoke cloth from the Yoruba of Nigeria. The bogolanfini "mudcloth" by Mali's greatest living master of the art, Nakunte Diarra. Also featured are more contemporary folk arts such as hairdressers' and barber-shop signboards from Ghana, Mali, Cote d'Ivoire and other countries in West Africa, and baskets, toys and other objects made from recycled tin cans and telephone wire.
Indigo Arts also exhibits work by some of Nigeria's leading contemporary artists of the last forty years, notably the flamboyant painter and musician, Twins Seven-Seven (b. 1945). Prince Twins Seven-Seven was one of the original artists of the famed Oshogbo School (named for the city of that name), which arose in the newly independent Nigeria of the early 1960's. Seven-Seven rapidly achieved international fame, with major exhibitions in Europe, Japan and Australia as well as the United States, and his work is now in museum and private collections around the world. Twins Seven-Seven's autobiography, a Dreaming Life, edited by Ulli Beier, was published in 1999 by Bayreuth African Studies, Bayreuth, Germany.
We are fortunate that today he lives in the Philadelphia area. One of Twins Seven-Seven's paintings is featured in the Philadelphia Musem of Art show, African Art, African Voices, and he was interviewed in a recent Channel 10 (Philadelphia) television special.
Father and son artists Yinka and Kola Adeyemi, Adeniji Adeyemi, Isaac Akindele, Prince Layi Orogun Ademoinore the late Rufus Ogundele and Asiru Olatunde also came out of the Oshogbo art movement.