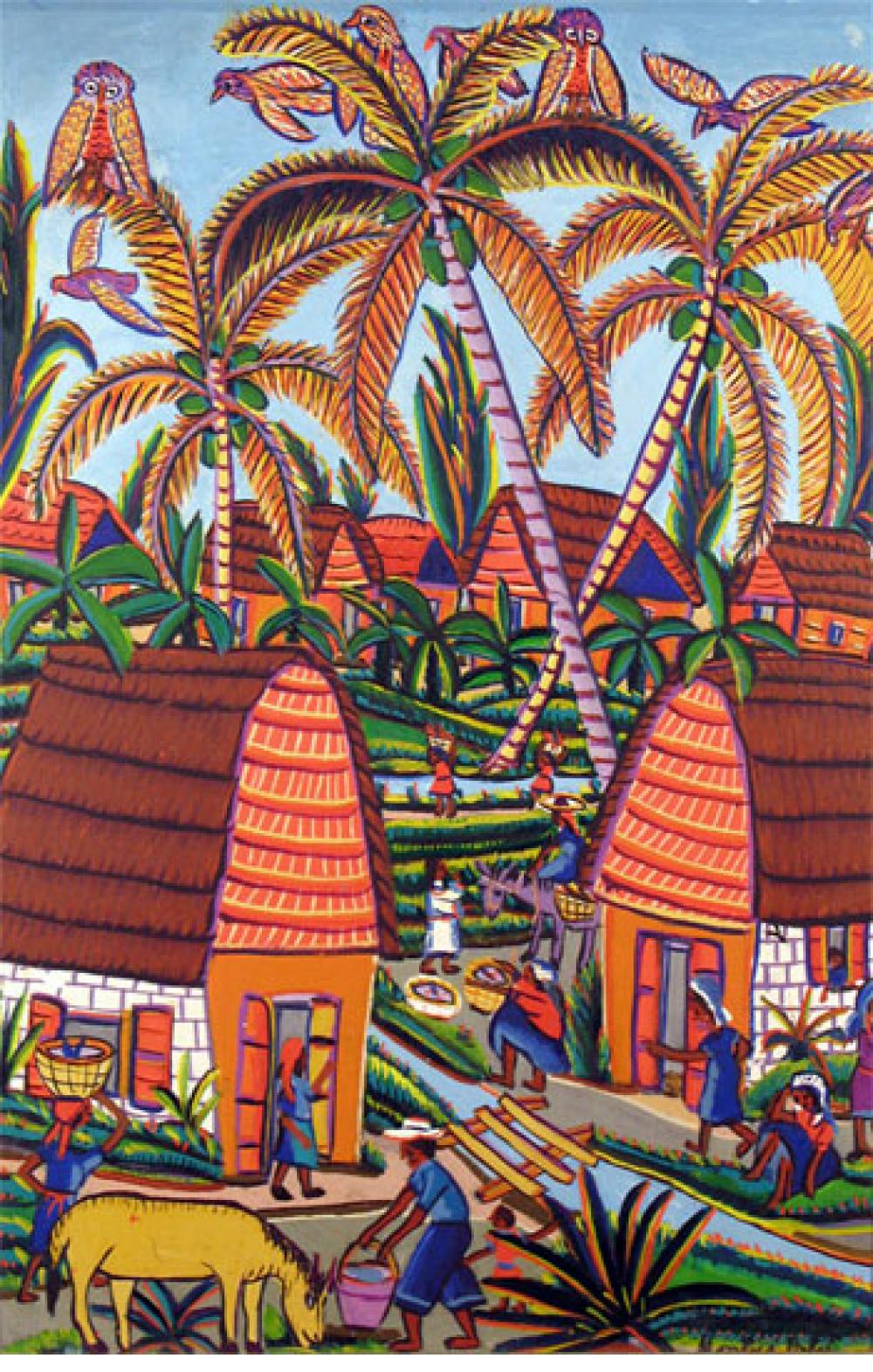 October 11, 2012

to

February 9, 2013
Indigo Arts presents a selection of the artwork of Haiti, dating from the "Haitian Renaissance" of the 1940's to the present.
The exhibition includes paintings, vodou flags and sculpture by artists Montas Antoine, Alberoi Bazile, Gabriel Bien-Aimé, J.B. Bottex, Seymour Bottex, Gerard Fortuné, Alexandre Gregoire, Guyodo, Maxan Jean-Louis, Philton Latortue, Gabriel Leveque, Magda Magloire, Dieuseul Paul, Payas, Prospere Pierre-Louis, Jerome Polycarpe, Louisiane Saint-Fleurant, Yves Telemak, Carol Theard, Pierre-Joseph Valcin, Jacques Valmidor, Georges Valris and Wagler Vital.
Works by Onel Bazelais, Mireille Delice, Serge Jolimeau and Frantz Zephirin respond to the traumas of Haiti's floods, hurricanes and the January 2010 earthquake.
Gallery director Tony Fisher fell in love with the country, people and arts of Haiti on his first visit twenty-eight years ago. When Indigo opened in 1987 we featured the arts of Haiti, along with folk and fine arts from other countries in Africa, Asia and the Americas. This has continued with a regular series of exhibits, both in the gallery and on the Indigo Arts website. In the ensuing years Haiti has endured coups, invasions, hurricanes, epidemics and a devastating earthquake. All through this Haitian artists have continued to produce works of beauty and astounding originality. The current exhibit celebrates the indomitable spirit and artistic genius of the Haitian people.
Even as Haiti is no longer in the headlines on a daily basis its needs persist. There are many organizations doing excellent work in Haiti, working towards sustainable development as well as disaster relief. Three groups which we support whenever possible are Fonkoze, Partners in Health, and the Art Creation Foundation for Children. For the full selection of our Haitian Art go to our Haitian Art Gallery Page.